World Cup
Wonderful Werner is the future of Germany...and maybe Bayern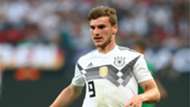 It's touch and go whether Bayern Munich will have Robert Lewandowski up front next season because his agent has got into the habit of saying that he wants a transfer . Bayern understandably are not happy about it .
He is one of their flagship players, responsible for more than 150 goals in less than 200 games, and they are not the kind of club whose players successfully agitate for a move away. Instead, they consider themselves the kind of club where players come to peak, like Real Madrid or Barcelona.
Bayern may well end up selling Lewandowski – and his fruitless performance in the Champions League semi-finals against Real Madrid might have helped convince sections of the support that his spark is going out – and like all super clubs, plans are being drawn up to replace him .
Sandro Wagner was signed in January as a back-up and is not the type of forward a massive team like Bayern can rely on for years into the future. Instead, talk has again turned to RB Leipzig's Timo Werner, Germany's starting centre-forward at this World Cup.
His representative revealed this week that Bayern tried for Werner all the way back in 2014 – when he was just 18 and playing for Stuttgart - and rumours of a move there this summer have begun to swirl in Germany.
"In 2014, when Michael Reschke started at Bayern, there was loose contact with Timo regarding Munich," Karlheinz Forster told Sport Bild this week. "At the time it would not have been a good idea and Timo's step would not have been the right one."
Granted, they are not always the best club for a teenager to break through but Bayern have watched intently as Werner has since established himself as one of the most exciting prospects in European football. His time at Leipzig has coincided with the climax of that club's rise to the fringes of Germany's elite.
A second place Bundesliga finish in 2016-17 brought 21 league goals from Werner and he weighed in with 13 more last term. The 22-year-old – like Leipzig as a whole – endured a little more difficulty last season but he worked hard enough and scored often enough to stay in Joachim Low's plans for Russia 2018.
He made his international debut in Lukas Podolski's farewell international against England last March and has hit the ground running. Werner was among the pretenders included in Germany's Confederations Cup squad last summer and took his opportunity with more established players back at the beach. He scored three times and added two more assists to take home the tournament's golden boot award.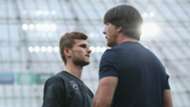 And while the likes of Leroy Sane – who missed the tournament – have been culled due to their lack of impact in the national colours, Werner has broken through and made it to Low's preferred XI.
His total of eight goals in 14 caps is impressive in its own right but it's not just about goals with Werner. He has given Germany pace, aggression and intensity up front. A static figure in the shape of Miroslav Klose or Mario Gomez has led the line in the past few tournaments; players who rely on service to feet and simply don't provide the threat of going in behind. Werner is different. His pace carries him into places opposition defences would rather he didn't go. And once he's one on one, his finishing is accurate.
Germany are seeking to retain the World Cup and no team has done that since Brazil in 1962. They are a different team this year than 2014 with old stagers like Philipp Lahm, Bastian Schweinsteiger and Podolski all having taken their leave. The scene belongs to the new players now, of which Werner is the brightest star.
It's expected that he'll be Germany's centre forward not only for this tournament but for many to come. And depending on how things go here in Russia, that big money move to Bayern might move a step closer.