Videos
When Touzani met Barcelona wonderkid Xavi Simons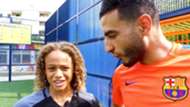 Freestyler Soufiane Touzani has taken his skills with him to Barcelona, where he met promising young Dutch star Xavi Simons.
The 14-year-old is one of the gems coming through at La Masia and hopes to make it big at Camp Nou. The youngster's technical gifts have caught the eye of the freestyler, who has also been impressed with his attitude in Spain.
Simons took part in a number of challenges with Touzani - smashing them all - but also spoke about his life with Barca.
Check out Touzani's interview with one of Europe's hottest up-and-coming young players above, or visit Touzani TV, where you can find more clips like this one.