Andy Carroll
West Ham's Zabaleta slams team-mate Carroll for 'nasty' red card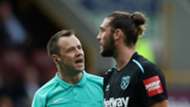 Pablo Zabaleta has let his frustration with West Ham team-mate Andy Carroll be known after a 1-1 draw with Burnley at the weekend.
Slaven Bilic's side were leading 1-0 during the first half when the centre-forward was dismissed for two quick bookings as he was adjudged to have used his elbows in an illegal fashion when jumping for a high ball.
Had the England international expected to receive some sympathy from his colleagues, he was to be sorely mistaken as veteran Argentine full-back Zabaleta criticised his actions.
"Andy's challenges were a bit nasty from my point of view. It looks aggressive, especially the second one when he knew he was on a yellow card already," he said.
"We need to try to play 11 v 11 for the whole game, especially when you are winning 1-0. You cannot give an advantage to the other team.
"We can sometimes talk about the referee, but there is nothing to say about the referee this time.
"We need to be more careful and clever in these situations because in the Premier League, playing with one player less for 80 minutes is really hard."
Bilic, meanwhile, claimed that the 28-year-old's actions "ruined" the momentum of his team.
Through eight matches, the Hammers find themselves 15th in the Premier League standings, only three points clear of the relegation zone and within striking distance of Leicester, who face West Brom on Monday.