United States
United States qualifies for World Cup by beating Jamaica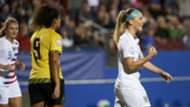 The United States qualified for next year's World Cup in France, thumping Jamaica 6-0 in the semifinal of the Concacaf Women's Championship.
The top-ranked team in the world, the U.S. now will face Canada on Wednesday for regional supremacy in the final. Jamaica heads to the third-place game against Panama, with the winner of that match also advancing to next summer's tournament.
The U.S. quickly snuffed out any hope the Reggae Girlz had of springing an upset, opening the scoring in the 2nd minute thanks to a goal from Tobin Heathpounce on a rebound of a shot from the top of the box and knocked the early opener past Jamaica goalkeeper Sydney Schneider.
After Megan Rapinoe and Julie Ertz added to the lead, Heath scored her second goal of the night. Lindsey Horan sent a parabola-shaped pass in for her Portland Thorns teammate in the 29th minute, and Heath finished for her fifth goal in the last four matches with the national team.
The first-half onslaught wasn't over. asAlex Morgan smashed a shot through traffic after getting on the end of a free kick from Rapinoe. Her shot wriggled through a few legs and over the line to put the Americans up five goals after 33 minutes.
A heavy rain started to fall at halftime, and dampened the U.S. attack. Jamaica also sat back more than it did in the opening 45 minutes, with coach Hue Menzies drawing up an aggressive game plan designed to go toe-to-toe with the reigning champion. He made five changes from his team that rolled past Cuba in the final group stage match, with a priority on Wednesday's match that could put Jamaica in the World Cup for the first time.
The U.S. eventually broke through in the second half, with Morgan converting from the spot in the 84th minute after earning a penalty. The goal runs Morgan's total to 23 goals in her last 23 matches for the U.S.
The U.S. has qualified for every World Cup since the women's tournament debut in 1991 and never has finished worse than third.