MLS
The MLS Wrap: Dax McCarty thriving with Chicago Fire, Petke's dream start and more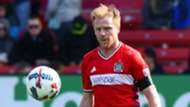 From a snow-covered Rio Tinto Stadium to a sun-drenched Orlando City Stadium, Major League Soccer's Week 6 had a little bit of everything.
We saw Toronto FC and Atlanta United play a thrilling classic at BMO Field, and FC Dallas shake off CONCACAF Champions League disappointment with a comprehensive victory. New England succeeded in slowing down Houston's vaunted attack, while the LA Galaxy stopped their recent slump with a much-needed three points.
FCD headlines MLS Team of the Week
Coaches took center stage this past weekend. Whether it was Jay Heaps successfully slotting in Kelyn Rowe at left back, Veljko Paunovic switching to a 3-4-3 in order to slow down red-hot Columbus or Mike Petke navigating a blizzard to kick off his Real Salt Lake tenure with a victory, several coaches stepped up with important decisions that led to wins.
It wasn't all pretty. The Philadelphia Union dropped another result, leaving fans wondering whether it's time for a shakeup in leadership, while the Montreal Impact's campaign remains winless as they struggle without injured star Ignacio Piatti. Colorado's defense looked a far cry from the stingy unit we saw in 2016, while the Red Bulls saw their winless slide extended to four straight matches.
Here is a look back at the top storylines from MLS Week 6:
---
MCCARTY THRIVING IN NEW CHICAGO HOME
---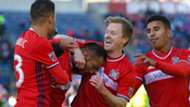 There are surely more eyeballs on the Chicago Fire these days since the arrival of German star Bastian Schweinsteiger, and it's a good bet that many of those new viewers have taken notice of the red-headed midfield dynamo who looks so sharp next to the World Cup winner.
Dax McCarty was the best player on the field in the Fire's 1-0 victory against the Columbus Crew on Saturday, and has been the team's best player this season. That shouldn't come as a complete surprise given his track record in MLS as a Best XI-caliber midfielder whose play has earned him a return to the U.S. national team, but it hasn't been an easy process though after being traded away by his long-time club, the New York Red Bulls, this winter.
McCarty has put the surprise of that move behind him and has acclimated well to his surroundings, as evidenced by his play in recent weeks. A week ago, it was McCarty's last-ditch tackle, strip and assist on a Luis Solignac equalizer that helped the Fire salvage a 2-2 draw against the Montreal Impact. This past Saturday, it was McCarty bossing the midfield as the Fire trotted out a 3-4-3 and neutralized the Crew's tough midfield, setting up Nemanja Nikolic's winning goal with a perfect through pass.
.@DaxMcCarty11 gets things going in his 250th career MLS start & @niko_nemanja finishes. #cf97 pic.twitter.com/ZUkOSc67Zi

— Chicago Fire (@ChicagoFire) April 8, 2017
"I'm settling in, and I think a lot of that has to do with being around the team more," McCarty told Goal after Saturday's win. "Again, we had [U.S. national team] January camp so I came into preseason late. Obviously the shock of the trade, mentally I wasn't quite right. Still trying to process everything, it took me a while. I think finding a place to live, getting to know the neighborhoods in Chicago, getting to know my teammates a little better off the field, these are all things that contribute to making sure that players are comfortable and ultimately play their best soccer."
McCarty partnered with Schweinsteiger in the heart of the 3-4-3 formation deployed by Paunovic, and in a battle against a Columbus central midfield featuring standout Wil Trapp, it was the Fire that managed to limit the Crew's chances and hold on for a much-needed victory.
"That's something that Pauno has talked about wanting to be able to do in the future, is be tactically flexible with how we play," McCarty said. "With Juninho being suspended because of a red card we decided to play three in the back and I thought in the first half it worked well for us. Tactically we kind of figured out a good rhythm with the ball and without the ball. I thought we limited their chances, and obviously we got a good goal.
"It was a gutsy performance," McCarty added. "We had to withstand a little bit of possession and a little bit of pressure from Columbus, but at the end of the day you're at home you want to give the fans three points, so it was important to win."
The Fire are in the midst of an important year, having invested heavily in trying to turn around a team that has struggled through several awful seasons. The acquisitions of McCarty, Juninho, Nikolic and, most recently, Schweinsteiger have put the pressure on the Fire to be a serious contender in 2017. Some early stumbles, including a 4-0 loss to Atlanta United, seemed to suggest this team might not be all that different from Fire teams that have finished last in the East the past two seasons, but their play in recent weeks has shown a team with much more quality and potential.
Schweinsteiger impresses in Fire win
We saw that against Montreal, in a match the Fire thoroughly dominated before some defensive mistakes nearly led to a stunning defeat. The Fire salvaged a draw that day, but even the exciting finish to that match didn't make a positive result for McCarty.
"That was a big disappointment, that kind of felt like a loss even though we came back and drew the game at the end," McCarty said. "I was really upset with how the flow of that game went. Montreal basically had nothing the whole game and we concede two really soft, really poorly defended goals.  
"That's where I think we learned from our mistakes," he added. "We wanted to tighten things up in the back against Columbus. For us, that's going to be the foundation of what's going to make us successful this year. If we can be good defensively, and our attackers know they have that foundation to have freedom to go forward and express themselves and create chances and score goals."
The Fire's eight points from their first five matches is the team's best start to a season since 2012, but the upcoming schedule should tell us even more about how good this team can be. Up next is a home date against a surging New England side before a very difficult three-match road swing against three playoff teams, before Chicago returns home to face reigning MLS Cup champion Seattle.
That road trip concludes with a visit to Red Bull Arena that promises to be an emotional one for McCarty, who spent part of six seasons with the Red Bulls. He captained the team and helped lead them to a pair of Supporters' Shields during his time there, and made no secret of how hurt he was by the surprise trade that sent him to the Fire this winter. Despite that, McCarty insists he's trying not to spend too much time thinking about the looming reunion, even though that's been difficult to avoid.
"I definitely don't have it circled on the calendar," McCarty told Goal. "One thing that I want to make sure that I do is I don't want to make it a bigger deal than it is. In my mind, I know it's going to be a big deal. It's going to be an emotional occasion for me. The thing that I try to do is focus on the here and now and helping this team get results, get wins.
"I had a moment of weakness, and did think about it the other day, and the only thing that I thought was, 'Man, it's going to be really weird going to Red Bull Arena and walking into the visiting locker room,'" McCarty added. "I've only done that once since I've been in MLS. That was with FC Dallas, in the first game I played with FC Dallas at Red Bull Arena. Every game I've played since then I've walked into the home locker room.
"It'll be a weird feeling. I still don't want to think about it too much. I don't want the moment or the occasion of me going back there to take away from our team, and to take away from the Chicago Fire trying to just get a result. When you try to make things about an individual, or one player, it's easier to get distracted and play poorly. I'll try to treat it like any other game.
"After the game is over, regardless of the result, win, lose or draw, I'm going to try and soak in the moment. Red Bull, and New York and the fans, my teammates, meant so much to me for the five and a half, six years that I was there so I'll definitely enjoy it afterwards."
In the meantime, McCarty is focused on continuing to help the Fire climb the Eastern Conference standings, and helping new midfield partner Schweinsteiger acclimate to a city he himself is still adjusting to off the field. On the field, as we have seen in recent weeks, McCarty is feeling right at home in the heart of the Fire midfield.
---
PETKE'S DREAM START AT RSL
---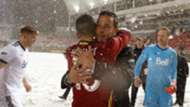 Mike Petke probably thought a sweater would be just fine as sideline attire for his Real Salt Lake debut, but a snowstorm changed those plans, and it wasn't long before Petke could be seen shivering in a coat that didn't quite look warm enough for the occasion.
Chances are Petke wasn't thinking about the cold on Saturday night, instead enjoying a dream debut as RSL coach in a 3-0 win against Vancouver. The snowy conditions certainly made for a tricky game, but even before the field turned white it looked every bit like a game RSL was going to win.
"The most important thing that we saw tonight was that, in one week, listening to the certain little tweaks that we want to make, they took it and implemented it and tried to implement it," Petke said. "[The] second half was all about grit and heart and just desire. Soccer goes out the window.
"There was no way to play in that second half, but they got the goals in the second half. It's amazing."
Led by Albert Rusnak and Luke Mulholland, the RSL attack created several chances in the first half, then found the net in the second half even as the snow began to blanket the field. As impressive as the attack was, Petke will have to be ecstatic at seeing his team post a shutout just one week after surrendering four goals in a loss to Minnesota United.
Chris Schuler's return to the lineup provided a big boost, and U.S. Under-20 standout Danny Acosta held his own at right back.  
The task for Petke will be solidifying a defense that has been hit by injuries, while helping the attack find some consistency after a lackluster start to the season. The former Red Bulls coach knows it is a process that will take time, but he couldn't have asked for a better beginning.
Well, maybe he would have asked for a warmer one.
"My toes are frost-bitten, and I had to have my pants tumble-dried at halftime," Petke joked after the match. "Those are the things I'm going to remember. Oh, and the 3-0 win. I'll remember that too."
---
ORLANDO's DEFENSE COMPLETING EXTREME MAKEOVER
---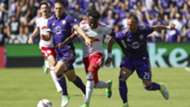 Four matches isn't exactly a big sample size, but anyone who watched Orlando City's defense stumble through 2016 — when the Lions had the worst defense in the league — can't help but be impressed with the improvements shown through the first month of the 2017 season.
The Lions' 1-0 win against the Red Bulls offered the latest evidence that Jason Kreis' task of bolstering the back line is bearing fruit, and it isn't simply down to new personnel
The arrivals of Jonathan Spector, Will Johnson and Donny Toia have obviously helped settle things down in the back, but Orlando City has also shown an ability to bring in people off the bench and still be stingy. Take Sunday's win against the Red Bulls, when Jose Aja's recent injury forced Kreis to insert young defender Tommy Redding into central defense.
Redding held his own next to Spector, while newly acquired English defender Scott Sutter stepped in at right back and played well after Johnson had been deputized in the role in recent weeks. Throw in the excellent shift turned in by Servando Carrasco, who replaced the injured Antonio Nocerino in the 17th minute before going on to score the winning goal, and you can see why Kreis is feeling good about how his team's defense, and depth, is coming together.
"So many positive statements to make about effort level, intensity level, commitment of the players to defend, real, real signs of togetherness and a fortitude that says we aren't going to be broken at home," Kreis said. "I'm really, really pleased with that. The negative is we've got to continue to be better with the ball. We cannot force ourselves to defend for such long stretches in matches like these, against opponents like these, because at some moments you're going to break and you will have lost all of the momentum that we should gain."
Kreis clearly isn't content with the idea of managing a team that relies too much on defending, but while the team copes without injured star Kaka, leaning on an improved defense will be necessary.
Making that easier is the play of Spector, who has been one of the league's best defenders through the first month of the season.
"I would say [Spector is] critical, absolutely critical," Kreis said. "We've played four matches now and I think he's been outstanding in all four. He's a very consistent performer who is leading the back line and is exactly what we went into the offseason looking for."
---
QUICK KICKS
---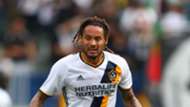 A week after facing criticism for a lackluster showing with the U.S. national team, Jermaine Jones backed up his claims that he is still too good to be benched by the national team by turning in a Man of the Match performance for the LA Galaxy in Friday's 2-0 win against Montreal. He played like a player eager to send a message, even if he did oversell the contact that led to Marco Donadel's red card. The Galaxy are a much more dangerous team with Jones marauding up the field in attack mode, but we still wonder if Jones and Joao Pedro are a good fit together in central midfield. It should be noted Jones' goal came well after Pedro had been replaced by Baggio Husidic.
Can't keep up with the Joneses. https://t.co/PomUTtHHDz #LAvMTL pic.twitter.com/WUpmlQbBGv

— LA Galaxy (@LAGalaxy) April 8, 2017
—
Marco Farfan continues to impress at left back for Portland, and could force veteran Vytas to stay on the bench. For the second straight week, Farfan led the league in tackles, with seven against the Union in Saturday's win.
—
Frederic Brillant's blunder that gifted D.C. United a goal in NYCFC's 2-1 loss shouldn't be seen as evidence NYCFC should scrap its possession-oriented system, but should convince Patrick Vieira to keep the French defender on the bench. A natural center back, Brilliant endured several similar errors in 2016, and appeared destined to be stuck on the bench this season before Vieira gave him a run at right back against D.C. United. Ethan White has held his own at right back this season, and R.J. Allen was the starter in 2016 and is more than capable.
—
The Union are one of two winless teams remaining in MLS, and Saturday's loss to Portland has only turned up the heat on head coach Jim Curtin. The reality is Philadelphia has played better than its record suggests, but the early schedule hasn't been filled with any layups. All five games have either been on the road, or at home against top opponents. Union fans aren't interested in excuses though, so the team had better find a win or two in its upcoming home games against NYCFC and Montreal or we could see our next coaching change of the young season before long.
—
Marco Urena looked very sharp in San Jose's 1-1 draw with Seattle, and while Chris Wondolowski grabbed the headlines for scoring the 90th-minute equalizer, it was Urena who provided the assist and nearly found a winner in stoppage time. The Costa Rican international appears to be settling in well, which should make the Earthquakes attack a much more formidable force after years of relying far too much on Wondolowski.
---
BEST OF MLS WEEK 6
---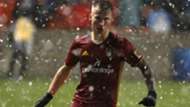 Player of the Week: Albert Rusnak. The Slovakian midfielder looked right at home in the snow, delivering a goal and two assists in RSL's romp over Vancouver.
Team of the Week: New England Revolution. Shutting down Houston's vaunted attack was no easy feat, but the Revs did it with a rookie center back and converted midfielder playing left back.
Rookie of the Week: Joshua Smith. Two matches, two rookie awards for the Revs center back, who is playing like a grizzled veteran, and has held up well against two of the best attacks in MLS.
Coach of the Week: Veljko Paunovic. Facing the task of having to stop a red-hot Crew team, Paunovic switched his team to a 3-4-3 and then dropped his wingbacks deeper in the second half to offset a Crew surge.
Goal of the Week: Jermaine Jones' lung-busting run and finish was impressive, but Nicolas Lodeiro's left-footed volley took the prize this week:
"We have a moment of magic from Nico Lodeiro. A stunning strike!" - @KeithCostigan pic.twitter.com/YsfLqICKmq

— Seattle Sounders FC (@SoundersFC) April 9, 2017