Brighton & Hove Albion
Peter Brackley: Legendary voice of Italia 90 dies aged 67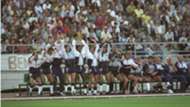 Tributes have poured in for the commentator Peter Brackley following his passing at the age of 67.
Brackley, who worked at multiple World Cups for ITV and Sky including Italia 90, but is perhaps most fondly remembered as the voice of Channel's 4 Football Italia programme, was also known for his long association with Brighton and Hove Albion, who announced his death on Sunday evening.
Albion chief executive Paul Barber, in a statement on the club's website, passed on their condolences and added: "So many of us here knew Peter well.
"He was a hugely talented, knowledgeable, funny and, above all else, a good man. We will miss him."
Brackley established himself on BBC local radio covering the Seagulls in the early seventies, before moving to Radio London where he commentated on the 1982 European Cup Final.
He later made the switch to television, where he became a recognisable presence on screens helming coverage of the 1990 World Cup for Sky and Serie A for Channel 4.
Aside from his work as a broadcaster, Brackley also provided the commentary in the Pro Evolution Soccer videogame series and voiced fellow pundit Jimmy Greaves on the satirical puppet show Spitting Image.
We're saddened to hear about the passing of commentator Peter Brackley, one of the evocative voices of @channel4's Football Italia coverage in the 1990s.

This one's for you Peter ⚽️🇮🇹pic.twitter.com/SpKi9ZeiXi
— Channel 4 Sport (@C4Sport) October 14, 2018
Everyone at ITV Sport is deeply saddened by the news that broadcaster Peter Brackley has passed away. Peter worked at four World Cups for ITV Sport and will forever be remembered as a very talented broadcaster. Our condolences go out to Peter's family.
— ITV Football (@itvfootball) October 14, 2018
Think Peter Brackley probably meant as much to my generation - thanks to Football Italia, and Pro Evo - as Brian Moore did to the one prior. A soft, warm, funny voice, one that was part of my life for years. Really sad news.
— Rory Smith (@RorySmith) October 14, 2018