Mexico
Osorio leaves door open for future Rafa Marquez recall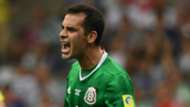 Rafa Marquez is back on the field for his club team after the U.S. Department of Treasury accused the legendary defender of being a front man for a drug cartel kingpin, but his Mexico return must wait.
Marquez still can't travel to the United States at the moment after his designation in the summer, but the 37-year-old, who has denied the allegations, had several bank accounts unfrozen last month and has returned to playing domestic matches.
While it's unclear if his current situation allows him to play international matches abroad, Mexico coach Juan Carlos Osorio said Friday that he'll evaluate Marquez and think about bringing him in to future Mexico squads.
"He always has been and will be considered for the extraordinary career he's had and because he keeps himself in good condition to compete," Osorio said at a news conference announcing his team for November's games against Belgium and Poland. "He's just started playing again recently and he's regaining his level of play, getting better in training sessions and with games. He's going to be considered."
Marquez has more than 140 caps with the national team and would play in his fifth World Cup were he to take part in the 2018 tournament in Russia.