Videos
VIDEO: Neymar says farewell to Barcelona with Instagram video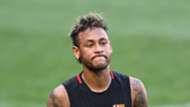 It's now official, Neymar has made his long-awaited move from Barcelona to Paris Saint-Germain in a record €222 million move. 
The Brazilian superstar had a payment accepted by the Catalan side on Thursday after a drawn-out process, and took to social media after the deal went through to say farewell to the Spanish side and to explain his reasoning behind making the jump to PSG. 
In video on Instagram, the former Santos star made clear that the decision was his, and explained that he is ready for a new challenge in Paris.
The forward says he has had the honour of playing with "the greatest athlete I have ever seen in my life" in Lionel Messi, calling the Argentine his "partner, friend on and off the pitch."
Neymar hailed the attack formed by Messi, Luis Suarez and himself as one for the history books.
Neymar's Barca legacy ruined forever
However, the post goes on with the 25-year-old explaining that he needs a new challenge and that he would be going against his father's wishes by making the move to Paris.
"Father, I understand and respect your opinion, but my decision is made and I ask you to support me as you do," he said.
"Barcelona and Catalonia will always be in my heart but I need new challenges."
Neymar went on to say that he's accepted the challenge of joining PSG as part of a daring "career plan" and that he hopes he can help the club achieve its goals, before thanking the Barca fans and players for their support. 
Check out the full video above.