Napoli
Napoli partner with Tinder... and sign up Milik to dating app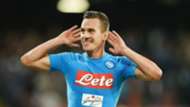 Coming across someone you know on Tinder can make for an awkward situation, but there will be a familiar face appearing on the dating app in the south of Italy in the next couple of weeks that all Napoli fans will be happy to swipe right for.
Partenopei fans will be able to match with their star striker Arkadiusz Milik on the platform as part of a new partnership between Napoli and Tinder, with four specially selected supporters getting the chance to meet him in person.
A verified profile of Milik will be active for two weeks and fans who swipe right and send him a 'welcome back' message - the Pole recently scored his first goal after a long-term knee injury - will be in with a chance of meeting him. According to Napoli, Milik will personally respond to all messages before selecting the best ones.
"I'm really excited to participate in this innovative and unique initiative," Milik said. "The reception of the fans is always very warm and it's really amazing to be able to have a new tool to interact with them."
"We are happy to support Arek Milik and SSC Napoli," David Wyler, the vice-president of partnerships for Tinder, said. "Tinder is first and foremost a platform to meet new people and that's why we look forward to bringing fans together with their idol."
The 23-year-old, who featured at Euro 2016, cost Napoli €35 million to sign from Ajax last summer as a replacement for Gonzalo Higuain, who made the move to Juventus.