Mexico
'Absolutely ridiculous' – Mexico coach Osorio's plans for players frustrates Porto boss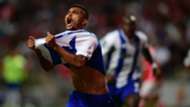 Mexico coach Juan Carlos Osorio has given each player who may make his World Cup roster a personalized training plan for the build-up to the tournament, an act that has frustrated Porto coach Sergio Conceicao.
Conceicao has four Mexican players in his ranks: winger Jesus "Tecatito" Corona, midfielder Hector Herrera, and defenders Miguel Layun and Diego Reyes. For the Portuguese manager, the work his team does at the club level should be enough to have those players ready for Russia.
"This is absolutely ridiculous. Ridiculous. What specific work are you doing in a week or eight days of preparation?" he said Thursday at a news conference. "Here we have physiologists, nutritionists and trainers who prepare individual plans for every player. We have a specific plan for every player."
"I don't know what goal he had in saying this. You can't forget that of the four Mexican players, Corona was the best on the field, Layun had an assist and Herrera scored a goal. He would be better off saying thank you to Porto for the players," the coach concluded.
Osorio has expressed a desire for his players to challenge themselves in Europe, but Porto may be a point of frustration for the Colombian tactician. Corona is regularly getting minutes, but Herrera and Layun are seeing time sparingly and Reyes has played just 18 minutes of the campaign.