Malaysia
Merdeka Tournament targeted for March 2019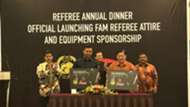 The tournament which was started in the 1950s has always been an annual tournament to commemorate the Malaysia national day but since the 1990s, it has not been organised as frequently. 
It has been revived on and off since then with the last tournament held in 2013 in Pahang with the participation of national Under-23 squads from Malaysia, Myanmar, Thailand and Singapore.
Following on the relative success of the national team in reaching the 2018 AFF Championship final, Football Association of Malaysia (FAM) is looking to bring the tournament back to life to give more playing time to the national team.
"We are looking to reintroduce the Merdeka Tournament but whether the name remains that or something else, it's still up for discussion. Whether it's in January or in March where there's a period of FIFA match days is still undecided." 
"The reason is because we don't want to disturb the preparations of teams for the league. Recently we've held the players for over 50 days during the AFF Championship, so we don't to hold them too long.
"When the calendar was prepared, discussion was held with FAM and at that time we did think of holding the Merdeka Tournament in January but now maybe in a later date. So that's why we are looking at doing it in March," said Stuart Ramalingam to the press on Saturday.
The FAM general-secretary was asked this after Malaysian Football League (MFL) released the 2019 competitions calendar which indicated that the Merdeka Tournament is slated to be held between January 26-31.
The dates now being eyed by FAM will be the March international break period between March 14-26. With the 2020 AFC U23 Championship qualifiers expected to take place on March 18-26, if the Merdeka Tournament do reappear then it is likely to feature the senior national team.
Follow Goal Malaysia on Instagram