Super League
MD13: Chance for Kedah to put KT horrow show behind them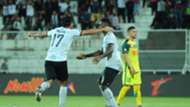 One final round of Super League matches before the M-League takes a break due to the Ramadhan fasting month. Every team will be looking to give it their all and have the month long break mulling over disappointment in the results of Matchday 13. Goal takes a look at four matches happening across the country on Wednesday night. 
Perak v Sarawak
It's 5th versus 11th at the Perak Stadium. In the reverse fixture, the teams drew 3-3 at State Stadium in Kuching. Mehmet Durakovic's side are without a win in five matches since beating Selangor 1-0 in the opening weekend of March. Sarawak's last league win was even longer by a week, in that pulsating 3-2 win over PKNS on the final weekend of February.
Durakovic has kept faith with the players he had on board, choosing to give more chances to the likes of Faton Toski and Vladislav Mirchev to stake a longer stay with the Bos Gaurus. Meanwhile, David Usop has already discared Mark Hartmann, replacing the Philippines international with midfielder Milos Raickovic from Montenegro.
Should Perak failed to pick up three points against lowly Sarawak, the pressure on Durakovic will grow and given that the transfer window is currently open, Perak management could move to make drastic changes to save their season. 
Kedah v T-Team
It's 3rd versus 8th at the Darul Makmur Stadium. In the reverse fixture, Kedah were handed a 5-0 humbling at the hands of the Titans at the Sultan Ismail Nasiruddin Shah Stadium in Kuala Terengganu. Rizal Ghazali's red card and the complete collapse of the Red Eagles in that match was a remarkable sight.
Since then, Kedah have managed to stay unbeaten and have picked up the FA Cup along the way. Rahmad Darmawan's side also drew plenty of confidence from that win by defeating Selangor and Perak in the matches that followed.
Nidzam Adzha faces a big task to get his player to refocus their attention and put the weekend cup win into one side but in-form T-Team could spoil their party celebrations at Alor Setar.
Kelantan v Penang
It's 7th versus 11th at the Sultan Muhammad IV Stadium. In the reverse fixture, Kelantan picked up a comfortable 5-1 away win at Batu Kawan Stadium in Penang. Mohammed Ghaddar who grabbed four goals in that match, has since moved down south to join Johor Darul Ta'zim.
The Red Warriors have signed another Lebanese in Abou Bakr Al-Mel to replace Ghaddar while there were also new faces in the Penang side. Zainal Abidin Hassan has recruited experienced players in Azidan Sarudin and R. Surendren in their relegation battle.
Down-trodden Penang will need to start showing some signs of life to escape demotion to Premier League but the hostile atmosphere in Kota Bahru will probably not do their prospect too good. 
Felda United v Melaka United
It's 6th versus 10th at Tun Abdul Razak Stadium. In the reverse fixture, the teams drew 1-1 at Hang Jebat Stadium. Late goals from Khair Jones and Lucas Cano meant both teams had to settle for only one point.
B. Sathianathan's boys have crashed out of the AFC Cup and will instead concentrate their efforts in the Super League and Malaysia Cup. Meanwhile trouble is brewing in Melaka with Eric Williams put on leave until further notice - a clear indication that changes will happen soon at coaching level.
Melaka's new signing Jasmin Mecinovic will get a chance to show his qualities but might find the pairing of Cano and Norshahrul Idlan as a tough one to handle on his first outing.