Llorente
Llorente vows to learn from new Tottenham partner Kane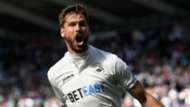 There may be a difference of eight years between them, but Fernando Llorente believes he can learn a lot from new Tottenham team-mate Harry Kane.
Llorente, 32, joined Spurs from Swansea City on the final day of the transfer window, rejecting the chance to join Chelsea in the process.
Get Spurs at 12/1 to win the league
The Spain international is expected to play second-fiddle to 24-year-old Kane, who has finished as the Premier League's top goalscorer in each of the last two seasons. 
And although the former Athletic Club forward has more experience at club and international level than the England star, it is he who will become the apprentice.
"I'm 32 years old, but I want to learn every day," he said. 
"I think I can learn a lot of things off Harry Kane and all the players. I can learn with Mauricio Pochettino a lot and I am going to do my best here."
Llorente won three Serie A titles with Juventus and was part of the 2010 World Cup-winning Spain squad. However, he has set his sights on Premier League glory upon signing a two-year deal with last season's runners-up.
"I'm very, very happy to join Tottenham, an amazing club," he added.
"I can only say that I come here to help Tottenham to win titles. I think they are working very, very good in the last years and I like it a lot."
Llorente scored 15 goals in 35 games for Swansea in one season after joining from Sevilla.