Jürgen Klopp
Klopp fumes at Premier League over Merseyside Derby date change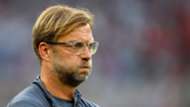 Liverpool manager Jurgen Klopp has reacted furiously to the Premier League's decision to reschedule his side's upcoming Merseyside Derby with Everton.
The Goodison Park fixture was originally scheduled for April 8, with kick-off at 14:15 BST.
However, after Liverpool were drawn to face Manchester City in the quarter-finals of the Champions League, the decision was made to bring the derby forward to April 7, with kick-off at 12:45 BST.
Liverpool will meet the Citizens at Anfield on April 4, with the second leg played six days later at the Etihad Stadium on April 10.
And despite the move now allowing his side an extra day's rest ahead of the return fixture against Pep Guardiola's side, Klopp believes moving it closer to the first leg hands the initiative to Everton due to his side having a lack of rest.
"I am already angry because the Premier League will move the derby game to 12.30 on Saturday," he told a press conference.
"I only heard it a second ago. It's not too cool - Wednesday night and then Everton on Saturday morning."
Klopp was asked about the situation again, with a reporter suggesting he might want the game rearranged, and snapped back: "No, I want it at 9am in the morning, what the f***?
"At three o'clock, like a normal game, or as usual on Sunday at 2:15 [pm]. Put it on a normal time, not breakfast.
"What do you think I'm talking about? Is my English that bad you have to ask again? We play at 7:45 [pm] on Wednesday and 12:30 on Saturday.
"City play [against Manchester United] at 17:30. That extra five hours means the world in terms of recovery - why not have it at 15:00, not after breakfast?
"Other leagues [reschedule] the entire game for another time to help their teams prepare; we play three days later. Not too cool, we have to go the hard way.
"You watch it, write a little bit about it, obviously you're not interested and have no idea about it, and we have to deliver and I am not happy, because I'm not happy all the time and not smiling all the time."
Liverpool are protecting a formidable record in Merseyside derbies, having not lost to Everton since October 17, 2010 – a run of 16 matches.
The Reds are also fighting to secure a top-four finish in the Premier League. If they are to achieve it, they will have to stave off the threat of Chelsea, who are out of Europe, and four points behind them in the standings.