Juventus
Juventus must be wary of 'magical' Insigne, says Amoruso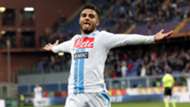 Former Juventus and Napoli star Nicola Amoruso has singled out Lorenzo Insigne as the man who can hurt the Old Lady in Friday's Serie A showdown. 
With 14 games played of the current season, Napoli hold the advantage, lying top two points clear of second-placed Inter and four ahead of holders Juve. 
Insigne's form has been key to the southern Italians' surge, as they dream of wresting the title off their rivals after six years of domination. 
"[Insigne] has a great technique and has recently learned to play with great flow. Every ball he touches becomes magical, it's a pleasure to watch him play," Amoruso, who spent one season in Naples during his six-year Juve stint on a co-ownership basis, told Goal. 
When asked who Napoli must be wary of at San Paolo, the ex-striker singled out Juventus' Argentina star Paulo Dybala. 
"Imagining it and thiking about it, my answer is Dybala because he is an important player and is crucial for Allegri's game," he added, while also playing down the absence of injured Gonzalo Higuain with a broken metacarpal bone.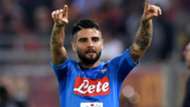 "I think in this match, technique will make the difference. 
"In the past season against Napoli, between the Serie A and the Coppa Italia, [Higuain] was significant. However, playing at the San Paolo stadium would not be easy for him. If Higuain does not play, Juventus still have many options who could replace him very well."
And when asked whether this could finally be the year Napoli retake the Scudetto - their last Serie A success came in 1989-90 - Amoruso was confident, although he refuses to rule out Juve.
"Serie A is far from over and there are still lots of matches but Napoli are playing well and have found continuity in results. The team, compared to the last season, has become more mature," he said.
"Until now we have not seen a very bright Juve, but we are talking about a team that has won six consecutive championships. A mature team that wants to fight till the end".