Joachim Löw
Low caught in ANOTHER 'scratch and sniff' incident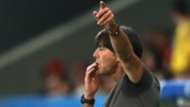 Joachim Low had promised to clean up his act on the bench, but the Germany boss is at it again.
Earlier in the tournament, the 56-year-old was forced to issue an apology after television cameras caught him sniffing his hands after he had rubbed his genitals.
But it appears this is one habit that Low can't get rid of as during Germany's 3-0 win over Slovakia, he was caught smelling his hand after it had been rubbed under his armpit.
Very, very strange, Joachim...
He's only gone and done it again! pic.twitter.com/N3LBItnqfF

— Richard Keys (@richardajkeys) 26 June 2016