Mexico
How will Mexico line up against Panama?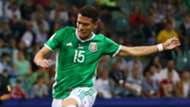 Mexico could clinch a spot in the 2018 World Cup with a result against Panama on Friday, but what will the starting lineup look like against the Canaleros?
This group of matches has provided fewer choices for Osorio, who admitted Thursday that the call-ups were a challenge for him between injuries and players not seeing action with their clubs.
Hector Moreno is likely out for Mexico because of injury, a big blow not only because the Roma man is the team's best defender but also because he starts many of El Tri's attacks from the back. If he's fit to go, he'd start at left center back and be one of the first names on the lineup sheet.
We've assumed he won't be and put together two possibilities for what Osorio's starting lineup might look like:
---
A 4-3-3 leaning on experience
---

When Jesus Corona has been healthy and available for selection, Osorio has leaned on him to perform on the left side. Hirving Lozano is in fantastic form in the Netherlands and seems like a more likely starter than Carlos Vela, who hasn't been starting with Real Sociedad and was overlooked in the Confederations Cup. Chicharito is a lock to start up top.
Mexico's central midfield seems settled. Andres Guardado is in good form, Hector Herrera has played more minutes than anyone else in the Osorio era and Jonathan dos Santos had a phenomenal Confederations Cup with his recent transfer to the LA Galaxy unlikely to diminish his minutes unless his performances take a significant dip. 
Despite not having a true fullback on the original call-up and adding only Raul Lopez, Mexico probably will go with four at the back without Moreno to add a calming influence and provide a left-footed player on that side.
Lopez had a one of the better tournaments of any Gold Cup player, but Osorio played him in a more advanced role. Edson Alvarez played there most of the tournament, and Osorio mentioned him as an option at right back against Panama. Jesus Gallardo continues to impress on the wing for Pumas, despite the team's horrendous start to the Liga MX season. Still, on the international level Osorio and his staff are enjoying his performances at left back — though he'll likely be pushed defensively.
---
The three-man back line 
---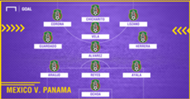 This seems less likely, but Osorio also could mimic the alignment he used against Panama in the first match between the two teams in this cycle. The issue is that many of the players are missing. At the back, Reyes and Araujo could switch places or young center back Cesar Montes may find a place on the right side. Alvarez moves from right back to the role formerly known as the "Rafa Marquez role."
This would see Jona dos Satos miss out with Carlos Vela or Giovani dos Santos entering in as a playmaker just behind Chicharito with the wing options staying the same or Raul Jimenez pushing out as well.