Transfers
How Man Utd could line up with Alexis Sanchez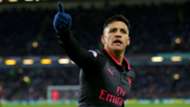 Manchester United have signed Alexis Sanchez in a straight swap deal with Arsenal as Henrikh Mkhitaryan goes in the opposite direction.
The Chilean had been a subject of interest from Old Trafford since the days of Sir Alex Ferguson, and United saw off initial favourites Manchester City and Pep Guardiola to secure Sanchez's services.
But how will Jose Mourinho fit the versatile 29-year-old into his United side, and who might have to step aside for Alexis to figure in the starting XI?
Goal looks at the options below...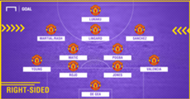 Given the make-up of the current United side, Mourinho may be most tempted to use Sanchez from the right of a 4-2-3-1 to begin with. Both Marcus Rashford and Anthony Martial are far more comfortable playing from the left of attack than the right, so while Sanchez has spent much of his time at Arsenal coming off that side it would suit United most if they were to play him on the right side which he came off for long periods of his Udinese and Barcelona days.
The inclusion of Sanchez off the right would complicate things for Juan Mata, who has made the right-sided slot his own this season, making 15 of his 16 Premier League starts so far as a wide player. The Spaniard's artistry has helped to mix up United's attacking threat at times, so Mourinho may overlook this option if he wants a more varied offensive approach unless he considers Mata as an alternative to Jesse Lingard in the No.10 role.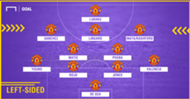 Sanchez has spent much of his Arsenal career as a left-sided attacker, with the ability to come in off the flank onto his favoured right foot being a key weapon. But when compared to his 30-goal season last term as a largely central threat, the Alexis Sanchez of 2017-18 has been slightly underwhelming.
Mourinho may decide that the danger he poses when cutting in off the left is the greatest boost to United, but that would leave both Martial and Rashford facing the possibility of having to re-tool their armoury. Martial in particular has been in fantastic form off the left for most of this season, while Rashford's best form has also come off that wing. While the use of Sanchez off the left would hardly be like placing a square peg in a round hole, it could create exactly that sort of dilemma elsewhere in the forward line.
A 30-goal season from a central attacking position in 2016-17 must not be overlooked when assessing Alexis' best fit for United, and as such he must be considered as an option for the No.10 role. Lingard has, of course, been United's form player of late with his eight goals in 10 games coming from the role just behind main striker Romelu Lukaku, but Mourinho needs to plan for the long term with Sanchez and should not be deterred from making an unpopular change if he believes that the Chilean will provide the greater threat.
Given the investment made in Lukaku over the summer and the faith placed in the Belgian since his arrival, not to mention Mourinho's long-held belief in a natural spearhead in the centre of attack, it is highly unlikely that the manager would choose Sanchez as a false nine. But the use of the former Barcelona man just off the main striker would still give him the opportunity to run at centre-backs with potentially the same success he had last season with Arsenal.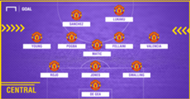 Another chance to use Sanchez in a more central position may well present itself when Mourinho reverts to a three-man defensive line. The Portuguese boss has regularly changed his team's shape when coming up against a trio at the back since taking over at Old Trafford, and he is likely to continue making such an alteration when the opportunity arises going forward.
The main drawback with using a 3-5-2 is the lack of places available for United's wealth of attacking players and the use of Sanchez just off Lukaku in such a system would reduce the opportunities to include the likes of Rashford, Martial, Lingard and Mata. However as an occasional one-off option Mourinho could well use this shape and rely on the quality of Alexis, along with the freedom allowed by the five-man midfield, to give the Red Devils a different kind of attacking potency.