MLS
Vancouver Whitecaps quietly climbing — Goal's Week 10 MLS Power Rankings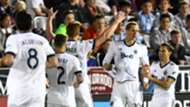 With 10 weeks in the books, we're starting to see what teams are really made of. It's still early, however, and in MLS a good run in the first third of the season doesn't guarantee success for the rest of it.
(Our MLS Power Rankings are voted on by Goal's editors and writers. Comments written by Rudi Schuller).
---
1. FC DALLAS
---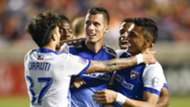 LAST WEEK: 1
CHANGE: —
Dallas grabbed a 3-0 win at Rio Tinto Stadium and made it look routine. Sure, RSL isn't the same side from a few years ago, but Dallas made sure that the gulf in class between the two sides was on full display.
---
2. TORONTO FC
---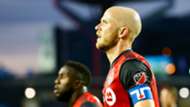 LAST WEEK: 4
CHANGE: +2
Deepest team in MLS? Toronto coach Greg Vanney made the case, and his team backed it up. Two wins in Week 10 despite travel nightmares and massive squad rotation put TFC on top of the MLS standings.
---
3. NEW YORK CITY FC
---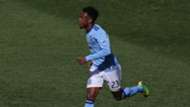 LAST WEEK: 5
CHANGE: +2
Perhaps the most exciting side in the league right now (especially at home), NYCFC dispatched the newest team in the Eastern Conference with relative ease.
---
4. SPORTING KANSAS CITY
---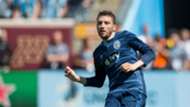 LAST WEEK: 3
CHANGE: -1
If you had Sporting KC giving up two early goals to Minnesota en route to a 2-0 loss, I'd suggest you buy a lottery ticket.
---
5. PORTLAND TIMBERS
---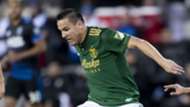 LAST WEEK: 2
CHANGE: -3
Losing in San Jose isn't particularly noteworthy, but the manner in which the Timbers were defeated has to raise some question marks for Caleb Porter.
---
6. HOUSTON DYNAMO
---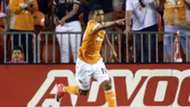 LAST WEEK: 9
CHANGE: +3
The Dynamo can't do anything on the road, but at BBVA Compass Stadium they are nearly unstoppable. 
---
7. NEW YORK RED BULLS
---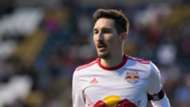 LAST WEEK: 6
CHANGE: -1
Consecutive road losses in Week 10, including a soul-crushing 3-0 defeat in Philadelphia, mean this Red Bulls side is lucky to have only dropped one spot.
---
8. SEATTLE SOUNDERS
---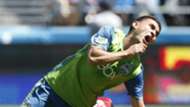 LAST WEEK: 7
CHANGE: -1
The much-hyped MLS Cup rematch saw the Sounders repeat their woeful attacking display against TFC, except without a penalty shootout to level the playing field.
---
9. ORLANDO CITY
---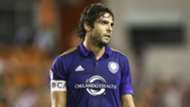 LAST WEEK: 8
CHANGE: -1
Heading into Week 10 as the hottest team in MLS, the Lions got a cold dose of reality with two road losses in the span of three days.
---
10. SAN JOSE EARTHQUAKES
---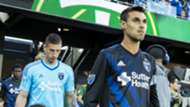 LAST WEEK: 10
CHANGE: +4
The Quakes have lost only once over the past six games, with a two-game winning streak boosting them up the rankings accordingly.
---
11. MONTREAL IMPACT
---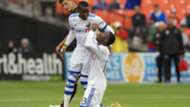 LAST WEEK: 13
CHANGE: +2
Montreal hasn't had the start it wanted, but a first-ever regular season win at RFK Stadium and the continued emergence of Ballou Tabla are encouraging signs for the Quebec side.
---
12. COLUMBUS CREW
---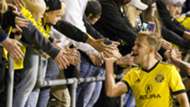 LAST WEEK: 15
CHANGE: +3
Columbus' two best attackers found their way onto the score sheet against the Revs, and when that happens the Crew will usually be favored. The task for Gregg Berhalter is to get his best players dominating on a regular basis.
---
13. ATLANTA UNITED
---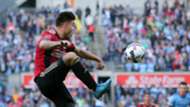 LAST WEEK: 10
CHANGE: -3
Remember the first month of the season when Atlanta was the talk of the league and looked nearly unstoppable? That's but a distant memory now.
---
14. CHICAGO FIRE
---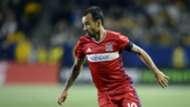 LAST WEEK: 12
CHANGE: -2
The Fire have reverted to the talented team struggling to find an identity, and the two dropped points in Los Angeles are a testament to that.
---
15. D.C. UNITED
---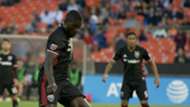 LAST WEEK: 11
CHANGE: -4
A stagnant attack combined with a poor defense equals a D.C. United team that forever looks like it'll be mired in mediocrity without an injection of talent.
---
16. VANCOUVER WHITECAPS
---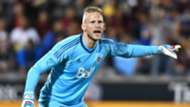 LAST WEEK: 19
CHANGE: +3
The Whitecaps are quietly putting together a good run of form — three wins in four games, including consecutive road victories — after a disastrous start.
---
17. MINNESOTA UNITED
---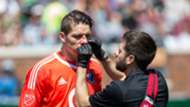 LAST WEEK: 20
CHANGE: +3
The Loons have reinvented themselves as a hardworking, no-nonsense team with an eye for goal, and it's working. Minnesota has moved on from its historically bad start and is now a team that will scrap for every point.
---
18. LA GALAXY
---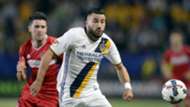 LAST WEEK: 18
CHANGE: —
Another home game, another less-than-optimal result. The Galaxy look like a team with too many chefs in the kitchen, all working without a cookbook.
---
19. NEW ENGLAND REVOLUTION
---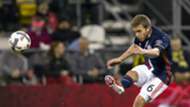 LAST WEEK: 16
CHANGE: -3
Long gone is the young, dynamic side fom three years ago that seemed to be on the cusp of greatness. The Revs are lacking an identity, and continue to tread water while most of the league keeps improving.
---
20. PHILADELPHIA UNION
---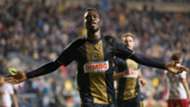 LAST WEEK: 22
CHANGE: +2
C.J. Sapong — a.k.a. The Fresh Prince of Chest-Air — is the best thing about the Union, both on and off the field. His three goals gave Philadelphia its first victory of 2017, and while a single win over a rival isn't that big of a deal it's a glimmer of hope for a team that sorely needed one.
---
21. REAL SALT LAKE
---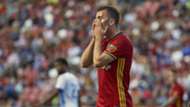 LAST WEEK: 17
CHANGE: -4
Nine goals for, 18 against. RSL is in a bad way right now, and Mike Petke will need quite a bit of time to clean up the mess he inherited.
---
22. COLORADO RAPIDS
---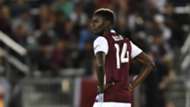 LAST WEEK: 21
CHANGE: -1
Bottom of the league and bottom of our Power Rankings. The Cinderella team of 2016 has seen the clock strike midnight — with a happy ending nowhere in sight.