World Cup
Gallardo makes history with fastest ever World Cup booking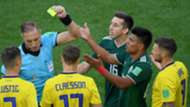 Jesus Gallardo didn't wait long to make some history against Sweden in Mexico's crucial Group F finale.
The Pumas man has become a regular for Juan Carlos Osorio's side in the 2018 World Cup, starting Mexico's group stage contests against Germany and South Korea.
The defender again was handed the start as El Tri looked for a result against Sweden to ensure a place in the knockout round.
Just 15 seconds into the match Gallardo went in on Sweden's Ola Toivonen. He was not only whistled for the foul, but the referee handed the Pumas defender a yellow card – the fastest any player has received a booking in World Cup history.
It is the third time since 1970 that a player has received a caution in the first minute with Giampiero Marini earning one against Poland in 1982 and Sergei Gorlukovich picking up a yellow, also against Sweden, in 1994.
00:15 - Jesus Gallardo's yellow card after 15 seconds is the fastest shown in World Cup history. Rapid. #MEX #WorldCup

— OptaJoe (@OptaJoe) June 27, 2018
The fastest ever red card happened in just under a minute, as Jose Batista of Uruguay was handed his marching orders 56 seconds in against Scotland in 1986.
Thankfully for Gallardo in this contest, the free-kick came to nothing, as Mexico has very little margin for error despite an excellent start to the group stage.
Even though El Tri defeated Germany and South Korea in their first two games, defeat to Sweden combined with a Germany win over South Korea leaves a very real possibility of Mexico making unwanted history by being eliminated despite being on six points.
A result would ensure Mexico not only goes through to the next round, but also would do so as Group F winners.