Ligue 1
From Ligue 1 to superstardom: Eden Hazard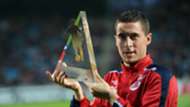 Eden Hazard was no longer just the next big thing, he was the real deal. Europe's most wanted man. He had his pick of the bunch.
Real Madrid, Barcelona, Manchester City, Manchester United, Arsenal. He'd entertained and teased his suitors all season. The price tag had been set: €40 million would see him edge Michael Essien as Ligue 1's most expensive export.
In the summer of June 2012, the time had arrived. It was no longer a matter of when, but only to whom. Everyone was waiting. 
"I haven't made my choice yet," he shrugged sheepishly in May, ahead of Lille's final game of the season.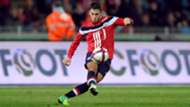 The Belgium international is the ultimate contemporary Ligue 1 success story. Schooled in an environment where youngsters are given minutes, France had offered him the first-team opportunities so vital to the development of talent.
"We discovered a little guy who already had an unusual sense of play," Jean-Michel Vandamme, the head of the Lille academy, told Nord Eclair of the 12-year-old Hazard they spotted playing in a youth tournament in Belgium.
Hazard, however, would get an early warning that talent wasn't going to be enough. "It wasn't a fairytale. He had talent, but he also had to make many sacrifices," said Francois Vitali, the head of youth recruitment at the club.
One was a change in his attitude. The powerful frame that carried Hazard to such dominance in Ligue 1 required a lot of physical nurturing and, after early fears he wasn't putting in enough work, his parents were called in one afternoon as he received a dressing down.
"His mother turned to him and said: 'Eden, is all this true?' "And he replied: 'Yes, it's true.' He was disarming," says Vandamme. "He had one enormous quality: his honesty."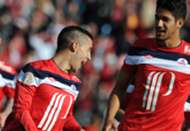 Hazard made his first-team debut for the club as a 16-year-old against Nancy in November 2007. He was raw, but all the ingredients were there. 
It had been some time since a talent like Hazard's had waltzed its way through the league. And he'd been waltzing ever since making his debut as a 16-year-old against Nancy in November 2007.
Over the next five seasons he'd complete a staggering 654 dribbles in his 147 appearances Ligue 1 for Lille, an average of 4.4 per game; to put that into perspective, this season only four players across Europe's top five leagues have matched that, and one of those is Hazard himself.
In his first full season with the club he made 30 appearances, hitting four goals he was named France' Young Player of the Year and Lille finished fifth to qualify for the Europe League.
In his second he missed just one match, hitting five goals and creating eight for his team-mates. Coach Rudi Garcia was putting together a young, dynamic and thrilling side that the following season would end a 57-year wait for a league title when they romped to the crown in 2011.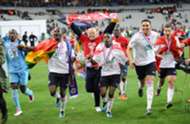 Then they saw off PSG in the French Cup final to complete a historic double. Hazard was named Player of the Year, bagging seven goals and 10 assists over the league campaign. 
The vultures were circling. Yohan Cabaye and Gervinho headed for the Premier League, while Adil Rami departed for Spain. But despite endless offers, Hazard stuck around for one more standout year. 
A shift from his role wide left to a central position brought a return of 20 goals and 16 assists as Hazard took the Player of the Year gong once again. Lille, however, were slowly being dismantled and, after a third-place finish, the time had come to move on.
Hazard never went full LeBron James and made it into a TV special, but the footballing world awaited his decision.  
The continent held its breath once more, having only just got its air back after a thrilling UEFA Champions League final that saw Chelsea overcome Bayern Munich on penalties.
And then, nine days after Didier Drogba's winning spot-kick, Hazard sent a tweet: "I'm signing for the champion's [sic] league winner."