Super League
Forkey Doe to be retained by Selangor...for the time being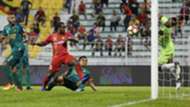 ---
BY        ZULHILMI ZAINAL       Follow on Twitter
---
Selangor head coach Maniam Pachaiappan has decided to retain Liberian forward Forkey Doe but will continue looking for a better target man, he told the press on Wednesday.
"Forkey Doe and (Ugo) Ukah will be there, as well as (Juliano) Mineiro and Andik (Vermansyah). 
"But in the coming one or two weeks we will hold trials, just to see whether we can find another number nine (target man).
"I will discuss this further with the board," revealed Maniam following his team's friendly match against MISC-MIFA.
Explaining that their remaining foreign player Victor Astafei's future will be decided later, Maniam said that he will wait until the final day of the mid-season transfer window to make his decision.
"If possible (I'll wait until) the deadline, but if I find the right man with the right qualities, we'll hurry it up.
"We don't want to make a rash decision, signing someone without quality.
"To play for Selangor, the player must have good qualities," he explained.
When asked by Goal whether he will drop any of his local players following Amri Yahyah's arrival, he responded in the negative, saying that he needs to give all of them the chance to prove themselves.
"We have about 27 players currently and we need (all of) them... so we won't drop any of the local players.
"They have the quality, and we must give them the chance to prove themselves," said Maniam.
Doe's future at Selangor is currently in limbo, after last week he pleaded guilty in the Malaysian court to the charge of driving a car with false registration, and was fined RM 6,000.
The Liberian is the current joint top-scorer for the Red Giants in the Super League, with five goals. In the friendly against MISC, he scored Selangor's equaliser in the match which ended 1-1.
The current transfer window will close on June 11.