United States
Five thoughts on the USMNT roster named to face Portugal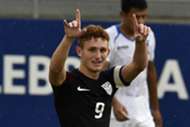 When the shock finally wore off from the U.S. national team's shocking elimination from World Cup qualifying last month, the reality began to set in. The next World Cup for the United States would be, at the earliest, in 2022, meaning it was time to look toward a new generation of talent to help the program rebuild from the debacle.
We still don't know who the coach will be who helps steer that rebuilding process, and we aren't likely to know for many months. But the first glimpse at the new wave of talent will take place in Portugal, where a total of nine players aged 22 and younger have been called in by caretaker coach Dave Sarachan.
Christian Pulisic and Bobby Wood were allowed to rest, which makes sense given the heavy loads they have carried in 2017, but there's no denying how important they each will be in the next cycle.
Here are some key takeaways from the 21-player roster called in to face Portugal:
---
DEFENSIVE MIDFIELD STACKED WITH TALENT
---
The position loaded with the most young talent in the U.S. player pool is defensive midfield, with Weston McKennie and Tyler Adams leading a new wave of talent. They join a group that also includes Kellyn Acosta, who is probably more of a box-to-box midfielder, and Cristian Roldan, who isn't in this camp due to the Seattle Sounders still being in the MLS playoffs.
McKennie is drawing the most attention because of his play with Schalke, and he stands a very good chance of earning a starting nod against Portugal. The 19-year-old FC Dallas academy product has settled in well as a starter with his Bundesliga club, and should have little trouble stepping into a prominent role.
Adams spent the second half of the 2017 MLS season playing as a right wingback for the New York Red Bulls, but he remains very much a top defensive midfield prospect. He has the attacking qualities to be a more box-to-box midfielder as he develops, but his work rate and tenacity should help him make a real push for playing time with the national team sooner rather than later.
Danny Williams is on the older side of the spectrum at 28, but he is at the peak of his career, following up an outstanding season with Reading by emerging as a starter for Huddersfield Town. He was largely ignored by Jurgen Klinsmann and Bruce Arena for the better part of the past four years, but he is someone who could very much be a solid contributor when the U.S. begins to play meaningful matches again in 2019.
One player who wasn't brought in is Jonathan Gonzalez. The Monterrey midfielder has enjoyed a breakout season in Liga MX, and at 18, the California-born midfielder is very much a prospect who should feature in the next cycle for the U.S. Sources tell Goal that U.S. Soccer has been in communication with Gonzalez, dating back to before Arena stepped down as coach, and while the Mexican national team has expressed interest in him, Gonzalez wants to play for the United States.
With Gonzalez and Monterrey still set for matches during the international break, with one on Thursday and the Liga MX playoffs looming, it makes more sense to let him stay in Mexico. The glut of talent at the position could also have factored into not wanting to force a call now, though there's always the risk of wasting an opportunity to cultivate the relationship with a player currently eligible to play for Mexico.
---
FRESH START AT GOALKEEPER
---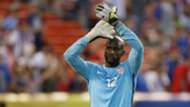 The trio of Tim Howard, Brad Guzan and Nick Rimando have held down the goalkeeper position for the better part of the past decade, but a promising crop of younger shot-stoppers appears ready to take the reins.
Ethan Horvath was expected to be the front-runner to grab hold of the starting USMNT spot heading into the new cycle, but his recent struggles at Club Brugge have led to him being benched. Bill Hamid recently completed his own move to Europe, leaving D.C. United for Danish side Midtjylland, and Jesse Gonzalez is coming off another solid season for FC Dallas, though his club team endured a disappointing campaign.
Hamid has seen injuries repeatedly slow down his own quest for a bigger national team role, but this camp could offer him a step toward a claim at the starting nod.
Guzan's absence is interesting because he the youngest of the goalkeeping old guard at 33, and stated last month he was ready to be a part of the November friendly if called upon. Considering he jumped right into the MLS season with Atlanta after starting for Aston Villa in the first half of the year,  perhaps we shouldn't necessarily see his absence as a sign that Guzan won't have more opportunities with the national team.
It will be up to whichever head coach is hired to decide if Guzan's experience makes him someone who needs to be kept in the mix, or if the U.S. is better off focusing on younger options, like Horvath, Hamid, Gonzalez, Zack Steffen and Alex Bono. 
---
WHO WILL BE THE PLAYMAKER?
---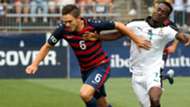 Christian Pulisic's absence from this camp, along with that of Darlington Nagbe and Clint Dempsey, leaves a group lacking in the playmaking department. Kelyn Rowe could help fill the void, as could Alejandro Bedoya if Sarachan wants a veteran presence in the starting lineup. Bedoya isn't your traditional attacking midfielder, but he has played the role before on the club level. Kellyn Acosta is someone else to consider in a more advanced midfield role.
The lack of attacking midfield options does make you wonder about the overall depth at the position, at least in terms of younger options. Emerson Hyndman is a player who had long been seen as a potential option at the position, but he has been unable to break through at Bournemouth, where he has yet to even make the bench for an English Premier League match. U.S. Under-20 midfielder Luca de la Torre recently made his first-team debut with Fulham, but remains a long way away from being a USMNT option. The same can be said for U.S. Under-17 playmaker Andrew Carleton, who impressed at the recent Under-17 World Cup, but has a long way to go before he'll be a serious USMNT option.
---
CENTER BACK OPTIONS APLENTY
---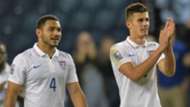 Cameron Carter-Vickers and Matt Miazga have never been in a USMNT camp together before, but that has long felt inevitable since they starred together at the 2015 Under-20 World Cup. Now, both are starting regularly on the club level, and both enter this U.S. camp ready to fight for minutes.
A healthy John Brooks in camp will make it tough for Carter-Vickers and Miazga to start together, but it should make for a good battle as they vie for the starting spot alongside Brooks. One of them should start since both Brooks and Tim Ream are left-footed central defenders and unlikely to start together.
What does this grouping mean for the future of veterans like Geoff Cameron and Omar Gonzalez? Cameron fell out of favor with Bruce Arena, and given the fact the current coaching staff is Arena's old staff, Cameron never figured to be part of this group even though he's a regular starter in the Premier League. Gonzalez's poor showings in qualifying helped doom the U.S., and though he's 29, it could be tough for him to break back into the national team mix, especially with good prospects like Carter-Vickers and Miazga breaking through.
---
SARGENT AN INTRIGUING FORWARD OPTION
---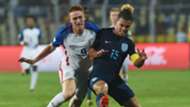 Though he has yet to sign his first professional contract, Josh Sargent will draw plenty of attention in this camp. The U.S. Under-20 standout isn't likely to get any playing time in the upcoming friendly, but there will be plenty of attention paid to how he fares in camp. Pulisic's rapid rise has made it seem a little less crazy for a 17-year-old amateur to be knocking on the door of the senior national team, but nobody is going to write him off just yet.
If anything, the camp should offer a glimpse of how he might fare at Werder Bremen once he is able to sign his pro contract and join the struggling Bundesliga side. Sargent is a confident player who firmly believes he can challenge for club minutes sooner than later, and if he can hold his own in a senior national team camp, it will be a good sign that he just might be another American teenager ready to excel in the Bundesliga.
Sarachan did go out of his way to reward at least one veteran forward for an excellent club season in C.J. Sapong, who finished as the leading American goal scorer in MLS in 2017 with 16 goals. A strong and skilled target forward, Sapong has refined his game since having been a part of past national team camps, and gives the USMNT pool another good target striker option behind regular starter Jozy Altidore.
If there was a forward who merited a look only to just miss out it's Christian Ramirez. The Minnesota United forward finished with 14 goals in 2017, and at 26, he's at a good age to be a factor in the next qualifying cycle. Ramirez was part of the preliminary roster, but ultimately just missed out. With the January USMNT camp expected to be back in 2018, Ramirez should be a part of that camp.