Zinédine Zidane
Zidane named Coach of the Year for Real Madrid success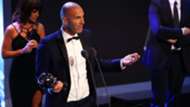 Real Madrid boss Zinedine Zidane has been named the Men's Coach of the Year at The Best FIFA Football Awards.
Zidane beat out Chelsea manager Antonio Conte and Juventus' Massimiliano Allegri to claim the prize for the first time having been the runner-up to Claudio Ranieri in 2016.
Zizou's Real 9/2 for another CL crown
Ranieri was at the ceremony in London to present this year's award to Zidane.
The Frenchman led Madrid to a second consecutive Champions League title in 2016-17 and also claimed La Liga - the club's first since 2011-12.
"I'd like to thank all of the players for making this possible," Zidane said. "This is a very special prize."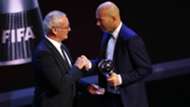 Zidane replaced Rafael Benitez as Madrid manager in January 2016 and immediately led the club to their 11th European Cup, becoming the seventh person to win the continent's top club honour as a player and a coach.
He repeated the feat last season, beating Allegri's Juventus in the final, and also guided Madrid to victory in La Liga, finishing three points ahead of Barcelona.
Allegri won the Serie A championship with Juventus, while Conte was a Premier League title winner with Chelsea.
Zidane's star player, Cristiano Ronaldo, is expected to win the Men's Player of the Year award for the second year in a row in London.
---
THE NOMINEES IN FULL
---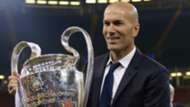 Zidane, Conte and Allegri were in the running for the Men's Coach of the Year award after the shortlist was narrowed down to three names.
| Coach | Team |
| --- | --- |
| Antonio Conte | Chelsea |
| Massimiliano Allegri | Juventus |
| Zinedine Zidane | Real Madrid |
Originally, the prize had a 12-person list of candidates selected by the same group of experts - including the likes of Diego Maradona and Cafu - that decide on the Men's Player of the Year field.
That list was voted on between August 21 and September 7 by national team coaches, national team captains, selected media and fans, with each of the four voting categories weighted evenly.
The top three was then announced on September 22.
The initial 12 nominees were: