Paulo Dybala
Dybala: Scoring against Casillas would be special - I want his jersey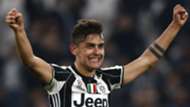 Paulo Dybala says it would be "special" to score against Iker Casillas when Juventus host Porto for the second leg of their Champions League last-16 tie, and hopes he can get the goalkeeper's jersey afterwards.
Mourinho must learn Pogba lessons from Conte
Goals from Marko Pjaca and Dani Alves gave Juventus a two-goal lead from the first leg against Porto, with the return fixture being played on Tuesday in Turin.
Dybala has scored just once in five Champions League appearances this term, netting 13 in 30 in all competitions, but he is looking to improve that rate and ensure his side reach the quarter-finals of the competition. 
Despite his admiration for a goalkeeper who has collected a World Cup, two European Championships, three Champions League titles and five La Liga crowns, Dybala is looking forward to getting the chance to beat him.
"Obviously I'd like to score," he told O Jogo. "Always within maximum respect and because my job as an attacker is to score goals. It would be special to score against a goalkeeper like him.
When asked if he wants to swap jerseys with the former Real Madrid star, he said: "I'm a little embarrassed by these questions, but maybe if he reads this interview - I hope you see me and remember to bring me your jersey. Or the gloves, at least."
The Spain international is not the only great goalkeeper the 23-year-old knows though, as he shares a dressing room with Juve and Italy icon Gianluigi Buffon.
Chinese player gets crazy punishment for Witsel stamp
Although he is deep into his second season as a team-mate of Buffon, the striker is still in awe of the goalkeeper.
"Being with Buffon every day is an unbelievable experience," he said. "It's hard to explain. He is a bastion of the squad and his influence on each of us is important. 
"It's similar to Casillas, he is a historic goalkeeper, for all he has managed to achieve and win at Real Madrid and the Spanish national team. Despite his age, he is still a big player at Porto."