Premier League
Bravo has made mistakes - but it would be a bigger blunder for Man City to sell him now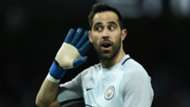 ---
COMMENT
---
He's good with his feet. Those have been the words used both to praise and castigate Claudio Bravo this season.
Four Chinese clubs to battle for Diego Costa
The Chilean's few remaining supporters in English football point to the good work he does when he is in possession, to how he helps Manchester City create chances from his own penalty area with direct passes, even under pressure.
"With our build-up Claudio is the best goalkeeper in the world, with Ter Stegen and Manuel Neuer," Pep Guardiola said last weekend. "In the build-up, with the feet, he helps us a lot to create good build-up."
There is also an appreciation that being good on the ball means more than just racking up a high pass completion percentage, and that it requires the outfield players to understand where they should position themselves, which has not always been the case.
"He's good on the ball" is also used by his many doubters, though the words will be laced with sarcasm.
The critics are armed with the damning statistic that, in the league, every single one of the last seven shots on Bravo's goal have gone in.
Going back to the start of December, when City lost 3-1 to Chelsea, he has conceded 17 of the 25 shots on target he has faced.
The last time Bravo saved a shot on target in the PL was against Burnley on 2 Jan, but that's ok cos he's good with his feet, LOL genius Pep

— Onyeoma (@_Jvshx) April 9, 2017
Please #Guardiola get rid of Claudio Bravo this summer. He can go and be 'good with his feet' elsewhere! #ManCity

— Otunba_ (@TeeSugarr) April 8, 2017
That is plainly not good enough, and Guardiola, even as the goalkeeper's staunchest advocate, knows it. That is partly why he dropped Bravo in January and why he has only been seen fleetingly since.
Even when given a run-out in the FA Cup, he let in a soft goal which gave Huddersfield a shock lead at the Etihad Stadium. It got to the stage where many City fans in the ground were ironically cheering when he caught a cross or kept a shot out.
It was not until last Saturday that he played another league game, and once more he let a shot go through him tamely. He would have received more sympathy for the fact he was unsighted if this kind of mistake had not become the norm.
But one thing is worth remembering… he really is good with his feet. He's excellent with his feet, in fact, and it is a point which should not be overlooked. 
He played an influential role in City's second goal against Hull last weekend, a goal which Guardiola describes as a "major example" of what he is trying to do at the Etihad Stadium.
Every City player touched the ball before Sergio Aguero finished the move. Bravo was involved three times, showing that those who dismissively say "he's good with his feet" are doing him a disservice. He is not just playing easy balls to full-backs, he makes himself available to receive another pass and, most importantly, he keeps his composure under pressure to find a team-mate in space, helping City work their way out of tight spots and advance up the pitch, leaving several opposition players out of the game. It is not easy, as Guardiola explained.
The patience that City's outfield players showed as they knocked the ball around against Hull, waiting to create and exploit space, is simply not possible without a goalkeeper who does the same.
But many City fans want to see the back of him, and they even made those feelings clear when the club announced Bravo's birthday on Twitter on Thursday.
@FlNANDINHO @ManCity @C1audioBravo Same, have fun but please leave.

— Carrick_fan fan (@Kolarovesque) April 13, 2017
@ManCity @C1audioBravo This emoji has never been more appropriate. Maybe you can teach him to use these? They're called hands Bravo.

— Lady.Of.The.Manor (@lady_manor) April 13, 2017
But the chances are that it is the Chilean who will survive the summer, either as the main man or No.2, depending on how he bounces back from a nightmare debut season. City will likely buy another goalkeeper but Guardiola's coaching staff, despite the big improvements in Willy Caballero's game, believe Bravo offers far more in his distribution. Keeping Bravo, at least as No.2, makes sense.
Sources close to the first team say his confidence dropped off a cliff amid his rough patch in the winter, though not necessarily because he believes he was in the wrong.
Guardiola has said it publicly and Bravo is not the only player to say it privately. In their view, City's failure to finish their chances has compounded the fact that they offer clear-cut opportunities to the opposition. Bravo, those close to him insist, has never had to contend with so many close-range, clear-cut chances in his career, and he has felt stranded.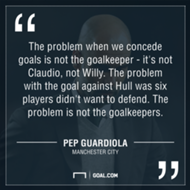 But if there has been a collective failing ahead of him, it is impossible to say that Bravo has been blameless. He has simply not done enough in those one-on-one situations and it is hard to imagine many others who would do worse.
If he is to be City's No.1 next season, he will have to cope better in such adversity. He has overcome admittedly smaller issues with both Barcelona and Chile in the past and, as hard as it may be for people to imagine right now, there was a time when he would make saves, whether rudimentary or spectacular.
Before this season he had never struggled like this and surely nobody could have foreseen that he would. In terms of his long-term prospects, it is not as if he has fallen victim to the rough and tumble of the Premier League: he has not been bullied at set-pieces, nor has his commitment to playing out from the back cost his team goals - when there is no passing option he will clear the ball to safety, because he knows what he's doing.
His struggles have had a big impact on City's season and the fans' frustration is understandable, but he should not, and most likely will not, be sold this summer.
Man City Team News: Injuries, suspensions and line-up
Guardiola's team are understanding his positional play system more and more, and there are plans to bring in quality new players this summer who will pick things up quicker than their predecessors. Next season, the hope is that the goalkeeper, whoever it is, will be given even better passing options, and even greater protection.
Bravo will still need to up his game, of course, but he should be given the chance. A goalkeeper of his ability and character is worth sticking with, and if he produces the performances expected of him then City will have the perfect goalkeeper. 
Even his biggest fans could not say his first season at the Etihad has been a success, but Bravo can be a major asset to this City team. After all, he is good with his feet.