Super League
ASEAN foreign player slot a revenue-oriented move, admits TMJ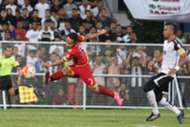 ---
BY        ZULHILMI ZAINAL       Follow on Twitter
---
The Malaysian FA (FAM) president, Tunku Ismail Sultan Ibrahim has admitted that the plan to add another foreign player slot in the M-League for Southeast Asian players is discussed with the objective of generating income for the league and clubs.
Speaking to the press during the new Super League trophy unveiling event in Johor Bahru on Tuesday, Tunku Ismail, who is also known as TMJ by fans, provided more details on the plan.
"The plan was suggested by our new sponsors. There are interested sponsors who have expressed the opinion that if we implement the ASEAN quota, the number of viewers will increase for our competitions.
"And the more viewers we can attract means more money for the league. When the value of the league increases, the competing teams will also benefit from the revenue.
And according to Tunku Ismail, who is also the chairman of M-League organiser Football Malaysia LLP (FMLLP), the projected revenue will be received only the clubs and not FAM.
"I don't want even a sen of it to go to FAM, I want the whole amount to be received by the clubs. My dream is to see Malaysian clubs receive RM 6 to 7 million (around USD 1,431,000) every year. 
"If in the first year we can't meet the 6/7 million target, I hope we can get RM 4 million for the Super League and 2 million to the Premier League.
"My hope is that one day, when every team in the country receives RM 6 or 7 million in television rights revenue, we will lighten the financial load currently borne by the state governments. It's better that the states spend the money on the people's welfare than on football," explained the Johor Crown Prince.
But he cautions that clubs need to weigh their financial abilities, as the addition is not compulsory.
"This is not compulsory, if they can't afford five (foreign players), sign four. If they can't afford four, hire three," he remarked.