Transfers
'Alexis can play for any team, even Bayern' - Arsenal team-mate Mustafi stokes transfer flames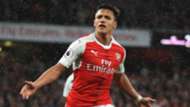 Shkodran Mustafi considers Arsenal team-mate Alexis Sanchez to be "one of the best in the world" and capable of playing for Bayern Munich.
The Germany international hopes he will still be working alongside the Chile international at Emirates Stadium next season, but has seen speculation mount regarding a move to his homeland.
Alexis is yet to agree an extension to a contract that is due to expire in 2018, sparking talk of interest from the likes of Bayern, Manchester City and Paris Saint-Germain.
Mustafi acknowledges that the former Barcelona forward would not look out of place at any of those sides, but is looking for Arsenal to do all they can to keep a prized asset on their books.
He told Bild while away on Confederations Cup duty: "Of course I hope he stays. It would be a pity to lose him.
"He play in any team, clearly... even for Bayern."
Mustafi added: "Alexis is an exceptional player - for me one of the best in world football.
"I have experienced few players who are as hungry as him.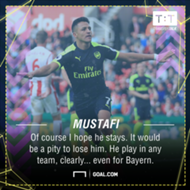 "He is nimble, agile, but despite his size very sturdy, and can dribble past players. Alexis is a complete player.
"As soon as he is on the ball, everyone knows: something can happen. Once he has made his way to the front of the goal, you will not be able to take the ball.
"He can slow down at full speed and hit a hooked shot - you never know what to plan next minute.
"It is definitely advisable not to allow a one-on-one situation, but to play against him with cover."
Mustafi is set to come face-to-face with Alexis on Thursday when Germany take on Chile.
He will be looking to contain a man in that contest who plundered a personal best 30-goal for Arsenal in the 2016-17 campaign.