India
AIFF appoints Abhishek Yadav as National Team Director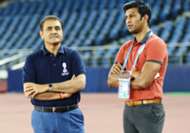 The All India Football Federation (AIFF) are set to announce former India international Abhishek Yadav as the National Team Director.
Yadav, who served as the Chief Operating Officer (COO) for the India Under-17 team for the Under-17 World Cup, has already taken charge since the start of this month. 
His role entails the development of the national teams and players across all age groups for both men and women. Yadav was also the Head of Scouting and initiated the Sports Authority of India (SAI) – AIFF international scouting project through which they managed to get two players, namely Namit Deshpande and Sunny Dhaliwal, be a part of the World Cup Under-17 squad.
Yadav was also involved in negotiating the contracts with the India Under-17 team when the AIFF opted to keep them together for the Arrows project.
Also the likes of Manvir Sigh and Davinder Singh have been roped in by Indian Super League (ISL) teams after they were spotted by the AIFF scouts and included in the AFC Under-23 qualifiers.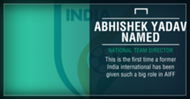 Pleased with his contribution towards the India Under-17 team, Praful Patel and Kushal Das, the AIFF President and General Secretary, have assigned him a larger role in what is a positive move by the federation. This is the first time that a former India international has been assigned such an important role within the federation.
"Abhishek has done a fantastic job and now we have entrusted this responsibility on him. Obviously, he will be involved in the scouting of players across all age groups. His immediate role was to chart out a plan for the India Under-16 team, who have qualified for the AFC Under-16 Championship which will be held in Malaysia in September this year. Also the Arrows project will be overseen by him," Das told Goal.
Yadav is also expected to launch a nationwide scouting project for all age groups thereby, providing opportunities to anyone who has talent to make it into the national team.