Ligue 1
50 Cent to play concert to celebrate Monaco's season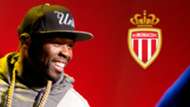 Monaco is known for its fast cars and lavish lifestyle. Just like rapper 50 Cent. The two have combined in a bizarre, yet predictable way, as the American artist will play a special concert to celebrate their local club's impressive season.
AS Monaco reached the semi-final of the Champions League and could lift the Ligue 1 trophy on Wednesday night with a draw or win against Saint-Etienne.
Lacazette opens up on Atletico links
With their final league game taking place on Saturday, 50 Cent will play an exclusive concert on Sunday evening where the staff and players of the club will be in attendance.
Concert privé de @50cent pour célébrer une saison historique dimanche sur la Place du Palais !!!

INFOS https://t.co/zr0uJEsoY0 pic.twitter.com/FEBPuM6De1

— AS MONACO (@AS_Monaco) May 17, 2017
The gig will not be open to members of the public, but only residents of Monaco who need to show proof of identity to gain entry.
50 Cent has sold more than 30 million albums worldwide following the massive success of his 2003 debut album Get Rich or Die Tryin'.
The concert will take place in front of Monaco's Place du Palais, the home of Albert II, Prince of Monaco, and is usually the home of a different genre of music, with the Monte-Carlo Philharmonic Orchestra regularly performing there.