Arsenal
Who is Arsene Wenger's right-hand man Boro Primorac?
Arsenal have dismissed claims of Boro Primorac leaving the club at the end of the season as 'wild speculation'.
WATCH: Botafogo's double bicycle kick
Primorac has been one of Wenger's most loyal assistants since 1994 and reports in Turkey have suggested that Konyaspor want the Bosnian-Croat as their manager for next season. 
But who is 62-year-old Primorac and why is there so little information about such a key member of staff at one of the world's biggest football clubs?
Goal has collated rare quotes about the former Yugoslav international defender, a man who is said to speak eight languages (Serb-Croat, French, English, Japanese, German, Spanish, Portuguese and Italian), delving into exactly what qualities he brings to the set-up at London Colney.
---
BACKGROUND
---
Primorac is a highly-intelligent and experienced coach who first became acquainted with Wenger at Cannes in the early 1980s, when the Frenchman was assistant coach and Primorac a player. They became rival managers in the France Championnat in 1993 when Wenger was at Monaco and Primorac took charge of Valenciennes - but it was the biggest footballing scandal in France which brought the two even closer together.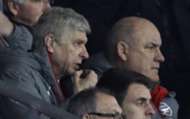 In 1993, Primorac had been told by one of his players, Jacques Glassman, that he and two team-mates, Jorge Burruchaga and Christophe Robert, had deliberately thrown an end-of-season game against Marseille.
When is the Champions League draw?
Primorac ignored then-Marseille president Bernard Tapie's attempts to buy his silence and it was his evidence in court which ended up being crucial to the L'OM supremo's conviction, and subsequent jailing. At 39, Primorac was a pariah in French football but there was one man who admired the courage shown by his former player - subsequently inviting him to work alongside him as he tried to recover from the scandal.

It was during the three-year spell in Japan with Nagoya Grampus Eight where Wenger and Primorac built up a close relationship - even sharing an apartment together.
"He did very well because it's not always the fact that you stand up against it, it's the consequences of it after," Wenger said. "I can tell you that story one day and you will be surprised…"
---
WHAT THE EX-PLAYERS SAY
---
Bob Wilson: "No one should underestimate his importance to Arsenal. He is an integral part of it and he and Arsene are practically joined at the hip. He is an absolute walking encyclopaedia on world football. You could ask him about any player and he would give you his age, weight, his preferred kicking foot and a complete list of his habits. He and Arsene also share the belief that the three most important things in the game are technique, technique, and technique."
Philippe Senderos: "Boro Primorac doesn't sit on the touchline, he goes in the stand to see the game from a different angle. If the boss hasn't seen something, Boro can provide extra information to adjust some positions or tactics."
Ray Parlour: 'He is a lovely bloke - very popular. He is probably closer to the players than Arsene Wenger because he has been there and done it as a player.
John Lukic: "He was only in charge of balls, bibs and cones, because Arsene does everything. But he has a far more important role as Arsene's eyes, ears and sounding board. And he is a fully qualified coach who did put on sessions when the boss was away."
Paul Merson: "Boro was a football nut who was a great help to me when I was coming back from injury. I remember thinking, 'this bloke knows his stuff '. He was also very easy to speak to and more accessible than Wenger."
---
COULD HE LEAVE AT THE END OF THE SEASON?
---
The Gunners have already dismissed reports suggesting Primorac could be set to leave and the man himself has previously said that he "wouldn't be a good manager" - something that Wenger would almost certainly disagree with.

A departure at the end of the season could provide the biggest hint yet that Wenger's 20-year tenure is coming to a finale, with chief negotiator Dick Law also prepared to vacate his transfer negotiator role according to recent reports.
Balotelli: I nearly joined Barcelona
Primorac, who has rejected media requests since joining Arsenal's coaching staff, was approached by a Croatian blogger at his hotel in Austria during Arsenal's pre-season tour in 2006 and, while it was admittedly over a decade ago, his comments give an indication as to what kind of motivations he has.
"It`s hard, who knows, maybe I`m not capable of this. That would mean being a manager. You must know more than just football. You need to be good on several levels. I would not be a good manager.

"I could not stand the strain of dealing with the media. In fact I have not seriously thought about it."
With the suggestion he might be considered unambitious without some plans for his future he responds with "What plans? To be Primorac the manager?

"At Arsenal I have plenty of ambition and that is to be champion of England and champion of Europe. Working on the training ground with the players, helping a good young player is good. I am a happy man doing a job I love. To you should someone always aim to be President of the US?"