Arsenal
Wenger: Kolasinac may be the strongest player I've ever coached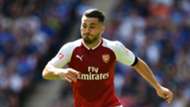 Arsenal manager Arsene Wenger believes Sead Kolasinac "may be the strongest" player he's ever worked with.
Kolasinac arrived at the Emirates on a free transfer from Schalke this summer, and the Bosnia international's toughness has already made him a favourite among Gunners supporters.
The 24-year-old's physical play has also clearly caught the eye of Wenger, who is impressed with how his new defender controls his aggression on the pitch.
"He is naturally strong," Wenger told reporters. "He uses quite well the strength of his body without violence and when he intervenes it doesn't look to be a foul, he just uses his body strength.
"It is an important quality to help adapt to the Premier League."
Wenger says picking up Kolasinac for free during the transfer window was a "no-brainer" and "nice bargain" in the Premier League, as Manchester City alone spent around £130 million on full-backs.
Aside from his strong defence, Kolasinac has already scored in the Community Shield and set up Danny Welbeck's goal in the league-opening victory over Leicester City.
"He has the capacity to repeat runs, and we noticed when we watched him play that he is quite dangerous in the final third," Wenger said.
"He already has some assists since he came here, so overall maybe he is not a glamorous dribbler but the quality of his runs is very efficient."