Trinidad and Tobago
Tom Saintfiet resigns as Trinidad and Tobago coach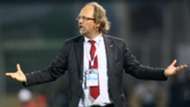 Just more than a month after he was unveiled as Trinidad and Tobago's head coach, Tom Saintfiet announced his resignation Wednesday.
The Belgian manager oversaw defeats to Suriname and Haiti in Caribbean Cup qualifiers earlier this month, leaving the Soca Warriors out of the 2017 Gold Cup. And with World Cup qualification matches looming in March, the coach has left rather than face potential embarrassment at the hands of stronger teams than Trinidad and Tobago's Caribbean rivals.
"Given the mandate to guide the team past Panama and Mexico in the coming World Cup qualifiers of March 2017, I have come to the conclusion that I can't be successful in this environment," Saintfiet wrote in a letter sent to press Wednesday after he submitted his decision Tuesday to Trinidad and Tobago Football Association president David John-Williams.
The FA president accepted Saintfelt's resignation and said in a statement that "a replacement for the post of Men's Senior Team Head Coach will be found in the shortest possible time and the TTFA will make an announcement on this in due course."
Nagbe, Agudelo and 10 players with the most riding on the U.S. January camp
Saintfiet's selections were controversial in his brief period at the helm. He declined to call forward Kenwyne Jones for the matches to decide the fifth place spot in the Caribbean Cup, but handed recalls to 38-year-old Carlos Edwards and 36-year-old Cornell Glen. He also clashed with MLS-based players who should've been available in their offseason despite the matches falling on a non-FIFA date. Yet the coach put the blame on the federation for his issues getting the players he needed to succeed.
"I never got the chance to work with the players nor staff requested," the coach wrote. "Perhaps I should have taken this decision right from day one of my appointment after the President openly second guessed his own choice of employing me but I gave him and the TTFA the benefit of the doubt."
The Soca Warriors now must regroup and find a way to get positive results against Panama on March 24 and Mexico on March 28 in qualification after losing their first two Hex matches.