Selangor
Selangor's application for Shah Alam return rejected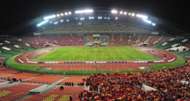 ---
BY        ZULHILMI ZAINAL       Follow on Twitter
---
Not only that Selangor's youth teams have been barred from training at the SUK pitch, its application to hold its senior team Super League matches at the Shah Alam Stadium too has been rejected.
According to club president Dato' Sri Subahan Kamal, their application to return to Shah Alam has been rejected by the stadium operator; the Shah Alam City Council (MBSA).
"I've been informed by club secretary-general Mr. Rosman (Ibrahim) that MBSA has sent us a letter stating that our application has been postponed, pending the next state executive-committee meeting.
"This is utterly disappointing to us, but I guess the dream needs to wait a little longer," he revealed when met by the press on Monday.
Adding that the Red Giants will still try to appeal to return to Shah Alam this year, Subahan said that allowing the return is the least that the state government can do for the team, after pulling its funding before the start of the season.
"Even if they do not want to help us financially anymore, at least let us return to Shah Alam," pleaded Subahan.
When asked by Goal regarding the difference in match attendance between the Shah Alam Stadium and their current home ground the Selayang Municipal Council Stadium, he responded that the club has no trouble improving attendance should they be allowed to return.
"In terms of attendance, at Selayang we can get at least five or six thousand fans every match, our most loyal fanbase.
"God willing, if we return to Shah Alam our spirit will improve, the players will perform better, and we will try attracting a bigger crowd. Even if we can't fill the Shah Alam Stadium, we'll try to fill half of its capacity.
"And I had been hoping we could begin our Malaysia Cup campaign this year at our former home ground, but that's not going to happen it seems. So the fans will have to make do with Selayang," he explained.
The Red Giants had mostly played at the 80,372-seater Shah Alam Stadium ever since the ground was opened in 1994. But late last year they were 'evicted' by MBSA after their falling out with the Selangor state government, and were forced to play their home games at the 16,000 seater Selayang Municipal Council Stadium, some 40 km away.
Shah Alam is currently home to the other Selangor-based Super League side; PKNS FC.