U17 World Cup
Ronaldinho - 'U-17 World Cup opened the door for my career'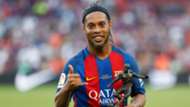 Remembering the glorious start to his career with the FIFA U-17 World Cup victory in 1997, Brazilian football legend Ronaldinho spoke at length about the importance of the big event, the 2017 edition of which is scheduled to take place in India.
Ronaldinho won Brazil's first FIFA U-17 World Cup 20 years ago in Egypt. He is the only player to have won both FIFA U-17 World Cup (1997) and FIFA World Cup Finals (2002) titles.
Brazil 6/1 to win 2018 World Cup
"The U-17 World Cup is a very special tournament for me. It opened the door for my professional career. I was lucky enough not only to take part in the competition but to win it too. I can honestly say that it opened the door for my professional career," said Ronaldinho, who was named FIFA World Player of the Year in 2004 and 2005.

"The U-17 World Cup can be crucial as for many players it marks the start of their careers. Young players dream of making it big, and this competition gives them a fantastic opportunity to make that dream come true. It got my career off to a wonderful start and will always be close to my heart." The former Barcelona player was speaking to FIFA's official website.
"The most wonderful moment of the tournament was when we became world champions and I got to lift the trophy. It was something Brazil had never done before and experiencing something like that was wonderful," Ronaldinho recalled.

Ronaldinho, now 37, has played for Brazil senior side 97 times and has 33 international goals to his name. The U-17 World Cup in India kicks off on October 6 with hosts India in Group A alongside USA, Colombia and Ghana.