Manchester United
'Mourinho needs to create a positive vibe like Guardiola'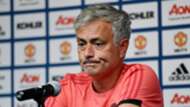 Jose Mourinho has been urged by Tim Sherwood and Liam Rosenior to stop complaining about Manchester United's transfer policies and make the best out of the players he has. 
Mourinho has spent heavily since arriving at Old Trafford at the start of 2018, but the current transfer window was relatively subdued for the former Chelsea and Real Madrid boss. 
Fred, Diogo Dalot and Lee Grant are the only new arrivals this summer, as United head into the new season with a squad virtually unchanged from that which finished distant runners-up to Manchester City in the last Premier League campaign. 
But according to Sherwood, instead of griping about his transfer funds Mourinho should stand up and back his players.
"Most managers don't spend the amount of money in a lifetime that he has in the last two seasons. He's been very fortunate to have been given the funds at one of the biggest clubs in the world, so I can't understand why any manager, with that backing, is ever disgruntled," the former Aston Villa and Tottenham boss explained to Sky Sports. 
"I think Jose needs to get in front of the camera in a press conference and send a message to the players saying, 'This is what we've got, I believe in you and we will push Man City a lot closer this season.'
"As a manager, when you sit in front of the media, you are not only talking to your fans and players, you are also talking to the board and I think he's got to stop talking to the board now. There's nothing you can do now, the window is closed, he has to carry on, knuckle down and get the best results for his club. He needs to send out a positive vibe.
"He's got [Victor] Lindelof, [Eric] Bailly, [Chris] Smalling or [Phil] Jones, they are all international footballers and they are now thinking that they aren't really wanted there. The manager tried to sign a centre-back, wasn't allowed to do it. Now is the time to knuckle down and get on with it and start sending a positive message about the whole club."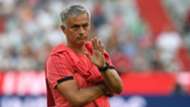 Liam Rosenior agreed with Sherwood and added that the Special One should take a leaf out of Pep Guardiola's book when it comes to player development.
"Instead of talking down about his centre-halves, maybe he should be saying that what he has is good enough. We speak about Guardiola and the money he's spent, but the season he had a fantastic season [in his first season] and he had Vincent Kompany and Nicolas Otamendi who he didn't sign himself. Sometimes as a coach you want to bring in the best players but sometimes as a coach you have to improve the players you have," Rosenior pointed out.
"We've seen the likes of Lindelof and Bailly be signed over the last two years - two young centre-halves that were probably thought of as coming into their prime now. Bailly I'm really impressed by but he's been injured and Lindelhof hasn't produced the form that he might have been looking for. Is that down to the player, or is that down to the environment, the tactical element of the team and the coaching that goes on?
"I'm looking over at Man City and seeing what Guardiola is doing with Otamendi who didnt play anywhere near the level until Guardiola came in. Part of coaching is getting the best from your players and I need to see that from Manchester United."