Mexico U20
Mexico U-20s bounce back with superb victory over El Salvador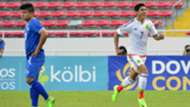 Overconfident and underperforming. That was the analysis after the Mexico U-20s lost in the CONCACAF U-20 tournament for the first time since 2009. Making things worse, the loss came at the hands of the United States.
Mexico was right back to its group-stage ways Wednesday, thumping El Salvador 6-1 and likely qualifying for the U-20 World Cup in the process.
This was what coach Marco Ruiz wanted to see, and had seen earlier in the tournament. El Tri moved the ball well in the midfield and smothered the Salvadorans, running out to a 3-0 lead after just 17 minutes.
Liga MX not serious about change
Even then, Mexico didn't make the same mistake it did Monday and overlook the opposition. Goalkeeper Jose Hernandez made a penalty save, and when El Salvador hit back on a free kick from Fernando Castillo, Ruiz's men again got forward and scored, this time from the spot, then added another late.
After being starved of the ball in the loss to the Americans, Mexico's talented attackers showed what they can do when they get the ball at their feet.
Santos Laguna prospect Uriel Antuna, who hardly touched the ball against the United States, emerged to score an early double and then completed his hat trick late in the game. Those goals are important, with goal difference potentially coming into play in deciding who finishes second, though it seems the U.S. should see off El Salvador in Friday's group finale.
GOAL Mexico, Uriel ANTUNA No. 7 | @miseleccionmx @Fesfut_SV #CU20CRC pic.twitter.com/CK3oda0XDX

— CONCACAF (@CONCACAF) March 1, 2017
Altuna's Santos teammates also made the most of the opportunities they had. Ronaldo Cisneros scored from the spot and nearly extended Mexico's lead to 4-0 in the 25th minute with a header that pinged off the underside of the crossbar. Eduardo Aguirre also scored against El Salvador after being starved of service Monday.
El Tri set for LA, NYC area friendlies
GOAL Mexico, Eduardo AGUIRRE No. 10 | @miseleccionmx @Fesfut_SV #CU20CRC pic.twitter.com/FrdYGOKdQh

— CONCACAF (@CONCACAF) March 1, 2017
This is the Mexico team that fans expected to see in this stage. After the blow against the United States, there was fear that this team could miss out on the World Cup. That's not acceptable for a team that has become a youth powerhouse in recent years thanks to the league and its clubs committing to getting high-level games with a burgeoning U-20 league.
The return of Mexico's midfield and the ability to get forward on the wings helped El Tri to a strong win. More importantly, the triumph gives a return to the hope that this group can once again represent Mexico with dignity at the international level.