Premier League
Jonathan Walters to undergo knee surgery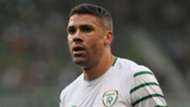 Jonathan Walters is set for a spell on the sidelines after it was confirmed that the Stoke City striker will have an operation on his knee.
Walters has featured 17 times for Stoke in all competitions this season, scoring twice, and the 33-year-old has been carrying a knee injury for much of that period.
WATCH: Irish midfielder's amazing assist
Stoke manager Mark Hughes confirmed that the Republic of Ireland international will be out of action for a number of weeks at least while the complaint is addressed.
"We're missing Jon Walters, unfortunately," Hughes said ahead of Stoke's Premier League clash with Sunderland. "He's got a problem with his knee, which needs to be sorted out. So he's going to be missing for a little bit.
Walters previously underwent surgery on his knee in March 2016, but managed to regain fitness in time for Euro 2016.
WATCH: Bohemians battle blizzard in pre-season
However, the new injury will come as a concern to Ireland manager Martin O'Neill, who will soon be finalising his squad selection for the upcoming World Cup qualifier against Wales.
The Boys in Green host Gareth Bale and company at the Aviva Stadium on March 24, meaning that the striker could find himself in a race against time to prove his fitness following surgery.