Borussia Dortmund
James deal shows Dortmund still far behind Bayern Munich, admits Watzke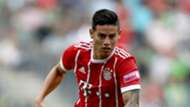 Bayern Munich's signing of James Rodriguez is another example of the gulf in class between them and Borussia Dortmund, Hans-Joachim Watzke says.
Dortmund give ultimatum on Aubameyang move
The Bavarian side won a fifth consecutive Bundesliga title last season, finishing 18 points ahead of third-placed Dortmund.
Carlo Ancelotti's side have further strengthened the squad in the close-season with the signings of James, Corentin Tolisso, Niklas Sule and Sebastian Rudy as they look to maintain their domestic dominance while challenging in the Champions League.
Dortmund remain Bayern's biggest challengers, but Watzke pointed out that the signing of the Colombian on a two-year loan with an option to buy from Real Madrid shows they can attract a different calibre of player.
"We know our limits. James Rodriguez is an exceptional player. We would never be tempted to go for a player like that because with what he deserved, our salary structure would be completely blown up," the club's CEO told Welt am Sonntag .
"If you can get such a player, that's great - but in Germany that can only be Bayern. That's why I cannot stand this whine that another club should win the league. They should all try it. They will usually fail.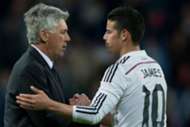 "We need to increase our budget by €100 million, which would require an extra €250m in turnover. That is Utopian! But we are considered to be just a few miles away from reaching them or coming near them.
"In the international ranking, we are currently seventh. However, Manchester United, Manchester City and Liverpool are close behind us. They come at us with great speed and want to overtake us.
"In financial terms, we are still the second biggest in Germany, athletic too, even if RB Leipzig finished second. But to come in third and win the DFB-Pokal is a good achievement."
James happy with trophy-winning Bayern debut
Dortmund begin next season with new coach Peter Bosz, who was brought in from Ajax to replace Thomas Tuchel, but Watzke says fans can expect the playing style to remain the same.
"The style of BVB in the past two years has been a good one," he said. "We had good two years. That we changed the coach had nothing to do with the football we played. 
"It would have been senseless to bring in a coach with a completely different style of play."