World Cup
Colombia will be relishing England's arrogance, warns Woodward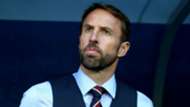 Colombia will be using England's belief that they are in the better half of the World Cup draw as motivation to win Tuesday's last-16 clash between the nations, according to Clive Woodward.
Woodward may have made his name as the coach who led England to glory in the rugby union World Cup of 2003, but he had a spell in football as Southampton's technical support director and has earned a reputation for his theories on leadership.
He has warned that England may be getting ahead of themselves with talk of a potential quarter- and semi-final match ups.
"The one team who will be relishing all this is Colombia - what greater motivation than an England team believing playing them is an easier way to glory!" he told the Daily Mail.
"Who on earth ever thought that somehow Colombia would be the easy route, one of the best attacking teams in world football and a side who reached the Olympic quarter-finals?
"I would love to be in charge of the Colombia team this week, reminding my players how England don't respect them. The England players will know this too."
Moreover, he has criticised the selection policy of manager Gareth Southgate for rotating his squad heavily in their final group fixture against Belgium, in which they suffered a 1-0 defeat.
"The thing I am really struggling with, though, is a much bigger point," he argued.
"England have hardly covered themselves in glory in tournaments over the last two decades yet they were wasting time and energy and getting distracted thinking about possible quarter-finals and semi-finals.
"Don't even go there, just win the next match and the next after that.
"I have been amazed how former players used unity in the squad as a reason for Southgate's selection - well, if this is what creates unity, we have zero chance.
"Unity is simply everyone doing everything that is required of them to win the next match even if that is just carrying the water bottle."
England won their opening two games of the competition, defeating Tunisia and Panama before going down narrowly to Belgium in their final group game.