United States
Can you name the top 20 all-time USMNT goal scorers?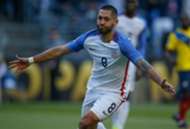 Clint Dempsey is one goal away from standing alone at the top of the all-time U.S. men's national team goal-scoring list, but will he have the opportunity to set the mark?
Currently tied with Landon Donovan with 57 goals, Dempsey might not get the chance to play for the national team again following this month's shocking elimination from World Cup qualifying. 
A new coach has yet to be named after Bruce Arena stepped aside following the loss to Trinidad & Tobago, so it's difficult to tell if the team will shift to a younger roster for upcoming friendlies.
But it wouldn't be surprising if Dempsey and the other veterans are placed to the side, as U.S. Soccer prepares for the future.
With Dempsey and Donovan at the top of the goals chart, it had us thinking about the other veterans who have lit it up for the U.S.
Can you name the top 20 all-time goal-scorers in U.S. history? Take our quiz below: