World Cup
Arena: Johnson set for midfield role in World Cup qualifiers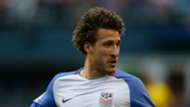 Fabian Johnson is poised to play on the left side of midfield in the U.S. national team's upcoming World Cup qualifiers, coach Bruce Arena confirmed Wednesday.
Dempsey named to U.S. WCQ roster
Johnson played both fullback slots and outside midfield under Klinsmann, serving as the Americans' first-choice left back at the Copa America Centenario last summer and the 2015 Gold Cup. But he's a regular starter as a winger for Borussia Monchengladbach, for whom he has scored four goals in 29 appearances this season.
"I think we're going to play him where he plays for his club team," Arena said on FS1. "It only makes sense to me. He's played a number of games for Gladbach on the left side of midfield, and I think that's his natural position where he feels most comfortable and that's where we're going to position him."
With Johnson seemingly removed from the equation at left back, Arena indicated Santos Laguna defender Jorge Villafana will be the starter going into matches against Honduras on March 24 and Panama on March 28.
Villafana, 27, earned his first U.S. caps against Serbia and Jamaica this winter but has found minutes in Liga MX hard to come by. The squad also includes 34-year-old DaMarcus Beasley, who made a late cameo against Jamaica last month for his first cap since October 2015.
"That's a position that I think the national team has been lacking in," Arena said. "Fabian Johnson has been placed in that role over the last couple of years, and I believe he's best suited in the midfield. We have a young, talented left back in Jorge Villafana who showed very well in January, and we've watched him in some Mexican cup matches. He's playing well.
"And DaMarcus you know you can always put in at any time. He's experienced, he's got the right attitude, he understands the group. If it comes to crunch time, we can always put DaMarcus on the field."
Arena also showed his hand at the goalkeeper position, implying Tim Howard has the inside track for the No. 1 job over Brad Guzan and Nick Rimando. The 38-year-old started in the Colorado Rapids' 1-0 loss to the New York Red Bulls on Saturday, marking his first appearance since suffering a groin injury in the Americans' 2-1 defeat to Mexico in November.
"Tim's track record demonstrates the fact that, if healthy, you think he needs to be in the squad," Arena said. "We'll see in the week in training in San Jose. If he's in good form, he's feeling right, there's no reason to believe he's not going to play."
Up top, Arena indicated Bobby Wood is set to start after scoring three goals in his past five matches for Hamburg, with Jozy Altidore, Jordan Morris and Clint Dempsey contending for playing time as well.
Dempsey is returning to the squad for the first time since an irregular heartbeat sidelined him in August, with Arena saying the 34-year-old will likely be used as a late-game substitute.
"I think Bobby Wood is in great form right now, and you have to think he's going to be there," Arena said. "Jozy and Jordan give us other options as well, and Clint — depending on how we align ourselves — can be a second forward or he can play underneath the striker in the midfield as well. I think we have good options up top."