Real Madrid
Real Madrid suffer worst goalless run in over three decades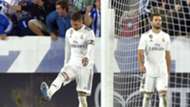 Real Madrid's scoring woes are now the worst they've been in over three decades after failing to find the net against Deportivo Alaves.
Manu Garcia's 95th minute winner saw the hosts come away with a 1-0 victory over the reigning European champions, one that actually brings them level to Real Madrid on 14 points in the Liga table.
Not even the return of Gareth Bale to the line-up after missing against CSKA Moscow midweek and coming off early against Atletico was enough to break the recent string of struggles.
The reigning European Champions began the season well enough, with victories in their first three league contests this season, scoring 10 goals in the process.
While a draw against Athletic Bilbao was their first setback of the campaign, subsequent victories against Roma and Espanyol set Real off to a fine start under Julen Lopetegui.
But the success in front of goal that was present in four of the club's first five games of the season has evaporated in recent weeks.
Real Madrid have not scored since that victory over Espanyol, having been kept off the board in four straight contests.
Over that span, Madrid have lost 3-0 to Sevilla and held city rivals Atletico to a scoreless draw, following those results with a pair of 1-0 losses on the road to CSKA Moscow and Alaves.
That is the longest goalless streak the club have endured since April 1985, when they could not find the net in five straight.