Italy
Italy must learn from rejuvenated England, says Bonucci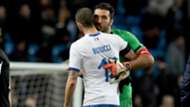 Italy defender Leonardo Bonucci admits that his struggling nation must look to England as an example of how to reclaim their place among international football's elite. 
Both Italy and England suffered first-round exits during the 2014 World Cup, finishing third and fourth respectively in Group D as they were shocked by Uruguay and Costa Rica. 
But while England coasted to a place in Russia 2018, the Azzurri suffered a catastrophic qualifying campaign that left them outside the World Cup for the first time since 1958. 
Now, as the two sides prepare to meet at Wembley on Tuesday, Bonucci pointed to a young Three Lions squad as the way forward for his own country. 
"We all need to understand Italy starts... not from zero, but not very far from zero," Bonucci told reporters in Monday's press conference, speaking as one of the elder statesmen in a team that since that qualifying disappointment has received an injection of new blood under interim coach Luigi Di Biagio.
"We need to let these young players grow and hopefully they'll take us back to the Italy we're used to.
"England have managed to go through transition while still qualifying. England have a group of young players with lots of experience. Our young players don't have that experience.
"There's no point looking back. We should look forward. We have a team with not much international experience. You can't compare our younger players to the English ones."
One of those young hopes on show will be Bonucci's Milan team-mate Gianluigi Donnarumma, who starts ahead of Gianluigi Buffon after the Juve man was preferred for Friday's 2-0 defeat to Argentina. 
"Right now he should be thinking about his own growth, not about replacing Buffon," Bonucci signalled when asked about the 19-year-old, who has four caps to his name. 
"He has to feel comfortable, he has great potential and with experience he will become one of the world's best."