Premier League
I want to be a Chelsea legend like Mourinho, says Conte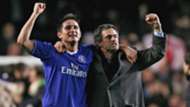 Antonio Conte has hailed Jose Mourinho as a Chelsea great and described his counterpart as 'one of the best in the world' as his side prepare to face Manchester United in the FA Cup on Monday. 
WATCH: Memphis scores from half-way line
Mourinho had said in recent weeks that watching Chelsea is 'boring', while he has also said that the fixture list has been favourable to his former club.
Conte, however, has refused to be drawn into mind games and spoke positively of Mourinho's impact at Chelsea, where he won the club's first league title for 50 years back in 2004-05. 
"I hope so. I hope so," Answered Conte when asked if he would like to emulate Mourinho's success at Chelsea. "His history with Chelsea was great. I know very well he's in the heart of Chelsea's fans. It's great because he deserves it.
"For sure, I hope in the future to emulate his wins here. I think Jose Mourinho wrote a good part of the history of Chelsea. He won a lot with the players. He did a great job here - it's important, always, not to forget this.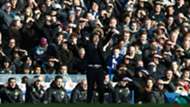 "I have great respect for him because he's a winner. I like his mentality. He has a winning mentality. For sure, he's one of the best in the world and, here, he did a great job. I think every single fan must respect him."
WATCH: Referee attacked with wooden plank
Mourinho and Conte have only faced off twice before in their managerial careers, with Conte's Chelsea having beaten United 4-0 earlier in the season and having faced each other in a pre-season clash back in July 2008. 
The game is likely to see both sides field their strongest eleven at Stamford Bridge as Conte hinted that he may use the same team that he does in the league rather than his recent cup line ups, which have seen the likes of Nathan Ake, Kurt Zouma and John Terry start. 
"When you arrive at this level of the FA Cup... it's a top competition for all so, for this reason, I want to make the best decision for the game against United," he added. "We didn't play during the week.
"We have to play Monday and then we play on Saturday. I don't see the necessity to rest people. Also because, I repeat, United will do the same against us."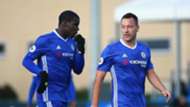 Conte was pressed on whether he promised game time to his second string in the FA Cup and the former Juve boss was firm that he will only select a team to try to win the match. 
WATCH: Kuyt still got it at 36!
"No. I didn't promise anything in the FA Cup. Nothing. I didn't promise nothing to anyone."