Diego Costa
I believe in Diego Costa - Antonio Conte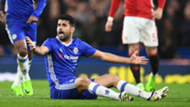 Antonio Conte has dismissed concerns that Diego Costa's form has deteriorated in recent weeks and insists the striker will be Chelsea's main focal point until the end of the season. 
Costa has failed to score in his last three games and only two of his nine shots against Crystal Palace in the 2-1 defeat at Stamford Bridge on Saturday, while stats also show a general dip in form since he was linked with Tianjin Quanjian. 
Conte has totally transformed Chelsea
However, he remains Chelsea's leading scorer this season with 17 goals and Conte is not ready to look to other options ahead of Manchester City's visit to Stamford Bridge on Wednesday night. 
"Diego is performing very well this season," Conte told a press conference at Cobham Training Centre. "He's a great striker and our point of reference in our offensive situations. Offensively, he is our point of reference. I'm not concerned about this. I believe in him.
"He's a really great player. I repeat: you win and you lose as a team, not as a single player. We are a team in every situation, when we win or when we lose. I'm sure Diego is in good form, great form, and is performing very well."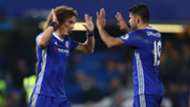 Meanwhile, Costa is currently on eight yellow cards, along with David Luiz, with the Brazil-born pair the only two players from Chelsea who could earn a ban for accumulating yellow cards. 
Conte: Alexis talk disrespectful
But Conte isn't going to ask his players to be gentle ahead of City's visit, adding:"Yeah, but I think my players don't need to have this advice. They're showing me great behaviour in every game, I think."
Chelsea's visit to City in December was one of the feistiest games of the season with Fernandinho and Sergio Aguero both sent off in the final minutes.