Premier League
All out attack, alongside Aguero? How Manchester City could line up with Alexis Sanchez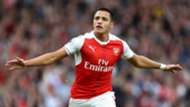 ---
ANALYSIS
---
Manchester City are confident of signing Alexis Sanchez this summer as they aim to get the Pep Guardiola era off the ground in the 2017-18 season.
Guardiola's first season in charge has been hampered by the team's debilitating failure to take chances and a weakness in goal and in defence.
Man City confident of signing Alexis Sanchez
The Catalan has vowed to fix those problems, saying following the 3-1 win over Hull City on Saturday of his side's weaknesses: "It shows us that we have to work more on this, or go out and look for players that will help us be stronger next season."
City will dedicate the majority of their transfer funds to buying several defenders, but there will be money set aside for at least one forward and a central midfielder.
Alexis is City's top target for the forward positions and, should the move go through, he would provide a versatility which would allow him to play in different positions throughout a match.
Here's how City could line up if they do sign him - the rest of the squad is made up of current players, though many of the defenders, in particular, will not be at the club next season.
---
ON THE LEFT WITH AGUERO
---
The main point when it comes to where Alexis would fit in at City is that he would allow Guardiola to mix up his options up front, which he has not been able to do in recent months.
Leroy Sane and Raheem Sterling have made the wide roles their own thanks to some fine performances, while Sergio Aguero is growing into Guardiola's idea of a striker's role.
But with Gabriel Jesus and Ilkay Gundogan injured and Nolito out of favour, Guardiola does not have much choice.
The Catalan is already looking for other options who can add another dimension to City's attack, and allow other talented players to come off the bench and make an impact.
With that in mind, one possibility is that Alexis can take up his role on the left-hand side of the attack, alongside Aguero and Sterling.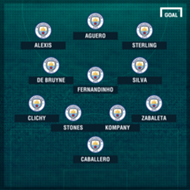 Guardiola has said on several occasions this season that he would like to play Aguero and Gabriel Jesus together, even if that is late on in matches.
PSG to raid Arsenal for Lucas Perez
It will be interesting to see how that works in the final weeks of this season when Jesus returns from injury, especially with Aguero now doing more of what Guardiola is asking.
But for the purposes of getting Alexis into the team, the Chilean's ability to drift between positions, coupled with the fact that Jesus has played on the left-hand side, means Guardiola could use both of them and expect them to bamboozle the opposition, especially with Sterling and Sane capable of playing on either wing.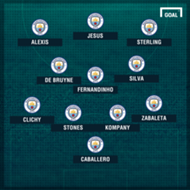 ---
THROUGH THE MIDDLE
---
Alexis has increasingly played through the middle for Arsenal this season and that is a role he could take up at the Etihad Stadium.
The big knock-on effect of the deal would be what happens to Aguero. The Argentine is uncertain of his future in Manchester but insists he wants to stay at the club.
Whether he stays or goes, Alexis could start as a central striker, though would also switch positions as the game goes on.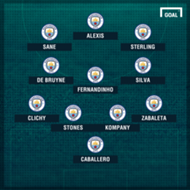 ---
ALL OUT ATTACK
---
Guardiola has buried the 3-4-3 experiment for now but says he could return to it next season depending on the players he signs this summer.
He introduced the system last autumn in a bid to get more midfielders into the side and have more control of matches.
Why Dybala is not Messi's heir
Playing Alexis in a slightly withdrawn role - and forcing one of Kevin De Bruyne, David Silva and Gundogan into a deeper position with Fernandinho, for example, dropping out of the line-up - could help add goals from midfield.
That would look like an extremely attacking line-up, but you can never rule it out with Guardiola, who has often bemoaned his side's finishing when the defence have buckled under pressure.
Whether it happens from the start of the game or towards the end of matches, City could line up something like this, with Sane and Sterling providing the width, as they did on occasion towards the end of 2016.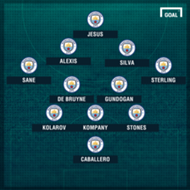 ---
AS A 'FREE 8'
---
Alexis could also play in a similar position behind a central striker even if City play a four-man defence.
Guardiola says he has missed the goals from midfield that Gundogan added before the German ruptured his cruciate knee ligament in December, and Alexis taking up a hard-running job - similar to De Bruyne's 'free 8' role - could be an option.