Eredivisie
Groningen's Veldwijk in trouble after exposing genitals on camera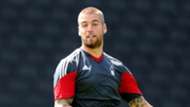 Groningen's Lars Veldwijk is in trouble with his club after footage emerged online of the striker exposing his genitals.
Veldwijk's girlfriend Monica Geuze, an avid vlogger with a following of over 400,000 subscribers, had been filming for her YouTube channel when the 26-year-old 'pranked' his partner, with the footage having been accidentally released before being deleted.
In terms of punishment, Veldwijk had already been relegated to the club's youth team due to refusing to be substituted back in February, meaning a fine looks like the most likely course of action.
Groningen director Hans Nijland spoke to Dagblad van het Noorden about the incident: "I can be very clear about this, I think it's absolutely ridiculous how Lars ended up in the newspapers this week.
"It's so annoying and unnecessary that this happens."
In November, Veldwijk and Geuze had already made headlines after escaping an armed robbery at a casino in Amsterdam.
"Especially around that guy, you just want everything to be quiet," Nijland added.
"Professional players should be an example for other people, so this really doesn't help. Maybe I'm a bit old fashioned, but I don't understand anything about vlogging.
"It's very unwise of him to show himself like that in those vlogs.
"We already spoke to him about it and we told him how irritating this is to us. And, even though we understand that he did this in his private time, we still want our players to be professionals off the pitch."