Germany
Gomez joins Ozil in retiring from Germany duty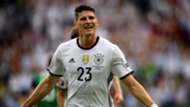 Mario Gomez has joined Mesut Ozil in announcing his international retirement, with the experienced striker no longer wishing to be considered by Germany.
Unlike his fellow countryman, the 33-year-old is bowing out in a positive frame of mind having fulfilled a childhood dream.
Gomez did grace the 2010 World Cup with his country, but saw injury struggles lead to him being overlooked for a successful campaign in 2014.
He was drafted back into the fold for the 2018 event and, with 78 caps and 31 goals to his name, the Stuttgart forward is now prepared to step aside and clear the path for a new generation to come through.
Gomez posted in a lengthy message on his personal Facebook account: "For me, a huge dream has come true with the World Cup in Russia. Even if the cut-off and the pathetic departure in the group-round [meant] we all failed.
"My entire career, I was allowed to play for the German national team. But when I had to watch 2014 [it] hurt, I finally realised how much [I was missing] the team and what a great honour it is for me to [play] for such a team.
"I wanted to experience these moments, these emotions. As a team and for me! I gave it all!
"With the team in 2016 and the 2018 World Cup, I was allowed to participate in two other big tournaments. I feel the greatest gratitude for this, even if the expectations of the last tournament could not be met.
"You can't always go out as a winner. My time in the national team was not always easy, not always successful and yet beautiful!
"I've met a lot of people with whom I will be very connected. Now it's time to make room and give the many young boys the opportunity to fulfil their dream, prove themselves, collect experiences and reach the best for Germany."
Gomez made his senior debut for Germany against Switzerland in February 2007, recording his first goal in that contest.
He is now preparing to turn his full attention back to domestic matters, with a move to Stuttgart in January seeing him pen a deal through to 2020.
Despite his advancing years, the former Bayern Munich star feels he still has plenty to offer, with Cristiano Ronaldo proving that age is no barrier for those who work hard to remain at the top.
Gomez added: "I am glad to inform you that after Cristiano Ronaldo I am probably the second player that has been found that my biological age is 23. That means you still have me for a few years. 
"Joking aside because no matter if [you are] 23 or 33 - I feel in shape and I'm very excited for the upcoming season."