Super League
Gastón Cellerino may be given the sack by Felda United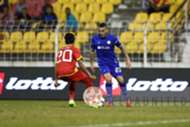 ---
BY        ZULHILMI ZAINAL       Follow on Twitter
---
Following Felda United FC's 3-1 defeat at the hands of Selangor in their Super League (MSL) match on Friday, the Fighters caretaker head coach Mohd Nik has slammed Argentinian forward Gastón Cellerino for the forward's poor performance.
The 30-year old forward, signed in the pre-season, had been taken off in the 61st minute of the match without scoring. His replacement, compatriot Lucas Cano then scored their consolation goal in the 84th minute. Cellerino has made appearances in all six of his new team's matches this season without scoring.
When inquired by Goal during the post-match press conference about his thoughts on Gaston's performance in the match, Mohd did not mince his words.
"In my opinion, he does not fit the gameplan I employ, that is all. I've given him the chance, and now it's up to me whether to select him for matches or to bench him.
"So far I still am not satisfied (by Cellerino's performance) but what can I do? It's what I've been left to work with.
"If a material is still dull even after it has been polished multiple times, you have to get rid of it and replace it!" said Mohd.
He also criticised another pre-season signing, winger Fakrul Aiman Sidid, who had been taken off in the 46th minute against Selangor, although he was a lot less harsh in his words on the Malaysia international.
"As a coach, I think he has a confidence issue. It has only been 10 days (since taking over from previous boss Azmi Mohamed who resigned) that we've applied the gameplan that I want .
"I have to keep working with him and the other players during training," he revealed.
On the defeat itself, Mohd said that the home side's three goals were soft goals that his squad gave away.
"The three goals scored by Selangor in the first half, we practically provided the assists. Our defence was careless. Those were all soft goals," lamented Mohd.
The defeat has taken the Fighters' winless streak to five - four defeats and one draw - in all competitions, with their only win this season coming in their league opener, a 1-0 win against PKNS FC at home.